Nexus version of Samsung Galaxy S4 launched for $649
Just today morning we reported that Google would launch the Google Edition of the Samsung Galaxy S4 and we were right! The Android laden Galaxy S4 is said to be Google's response to Android.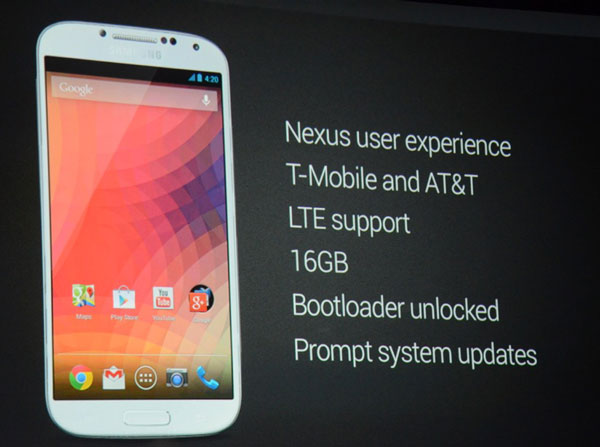 The Google Nexus S4 was officially announced at the Google I/O Developer Conference. The Samsung Galaxy S4 developer edition would run stock Android without any of the Samsung's TouchWiz UI. The Galaxy S4 launched today runs on the Android 4.2.2 with all other features of the Galaxy S4.
The Galaxy S4 with stock Android will be available on the Google Play Store for an off contract price of $649. The device would feature 4G LTE and support GSM carriers like T-Mobile and AT&T in the US. The device will be available in US on June 26 after which it will ship to other countries across the globe. To add to the excitement, the device will come with a fully unlocked boot loader.