Now make way for the Nokia Big Screen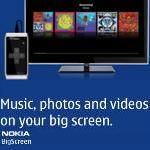 Raising the bar of entertainment, Nokia launches 'Big Screen', a new media player providing Nokia users with home entertainment by converting their smartphones into portable media hubs.
Using the HDMI output port one can view the media content on a compatible TV (display device ) once a successful connection has been established with their smartphone. Moreover, one can set up a Bluetooth controller (as a remote) using the Bluetooth technology of their smartphone devices thus making the browsing experience much easier. The Nokia Big Screen has succeeded in transforming the Nokia N8 into a portable media hub and is now planning to be released for the Nokia E7 as well.
So what's on offer??
The Nokia Big Screen will now enable users to showcase their photos and videos in HD and at the same time listen to music from their phone or an audio system. Users can now view the photos as a slideshow (by changing the direction left/right arrow keys). In addition to this , there is also a screensaver that gets activated after a minute's idle time to protect the TV. The device provides you mobility and guarantees entertainment wherever you go.
So for those of whom "size does matter", the Nokia Big Screen is surely up for grabs.


To download it visit Nokia Beta Labs