Yamgo Launches Fashion TV on Mobile Phone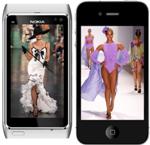 You can now watch Fashion TV on your mobile. Fashion TV, the popular fashion and lifestyle channel, has become the first fashion and lifestyle channel to launch on the global mobile TV network Yamgo.
Fashion TV, the global 24-hour fashion, beauty & lifestyle television channel, available on more than 30 different satellites, in more than 190 countries and over 350 million households across Europe, Asia, Middle East and Africa, is the latest channel to launch on the mobile content delivery network and will provide an exclusive showcase for high level brands, fashion shows and exclusive lifestyle events, across mobile phones worldwide. Mobile users will experience over 500 hours of new program content every year and over 300 new catwalk shows and 600 new clips every season.
Launching Fashion TV on the world's leading mobile TV network will provide fashion coverage that is unavailable anywhere else on mobile and viewers will be able to indulge in major shows from catwalks across the world, including Los Angeles, New York, London, Paris, Milan, Hong Kong, Tokyo and Sao Paulo.
Mobile viewers will have access to a schedule comprising of shows such as The Catwalk, featuring the best designers and hottest shows from international fashion weeks, Behind The Scenes, presenting backstage access to the world's top hairstylists and makeup artists, Midnight Hot, reveals the fashion beneath the fashion with beautiful models showcasing the most luxurious lingerie and VIP Events, providing viewers with an access all areas VIP ticket to the ultimate celebrity get-togethers.
To view fashion TV on your mobile visit http://yamgo.mobi/fashion-tv