20 Million New mobile subscribers in the month of February; Vodafone leads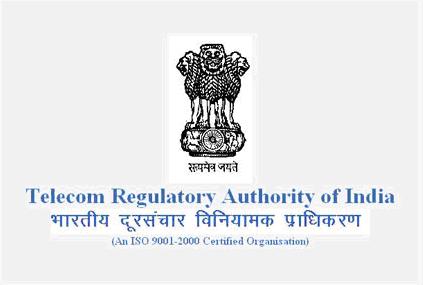 The Telecom Regulatory Authority of India (Trai) has reported that the number of mobile subscribers in India has increased to 826.25 Million at the end of February 2011 from 806.13 Million in January 2011, thereby registering a growth rate of 2.50%. The share of Urban Subscriber has declined to 66.72% from 66.79% where as share of Rural Subscribers has increased from 33.21% to 33.28%. With this, the overall Tele-density in India reaches 69.29.
Subscription in Urban Areas grew from 538.38 million in January 2011 to 551.27 million at the end of February 2011. Rural subscription increased from 267.74 million to 274.98. The growth of Rural Subscription (2.70%) is higher than the Urban Subscription (2.39%). The overall Urban teledensity has increased from 150.67 to 154.01 and Rural teledensity increased from 32.11 to 32.95.
The Share of mobile subscribers in February was as follows:
Vodafone: 3.5 million; taking its total subscriber base to 130.92

Bharti Airtel: 3.2 million; making their total to 158.99 million

Idea Cellular: 2.5 million   

Aircel: 1.55 million

Relicance Comm: 3.3 million

Tata Teleservices: 1.6 million

BSNL: 1.4 million

MTNL: 22,532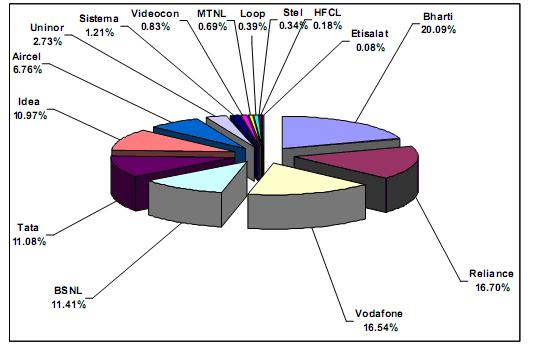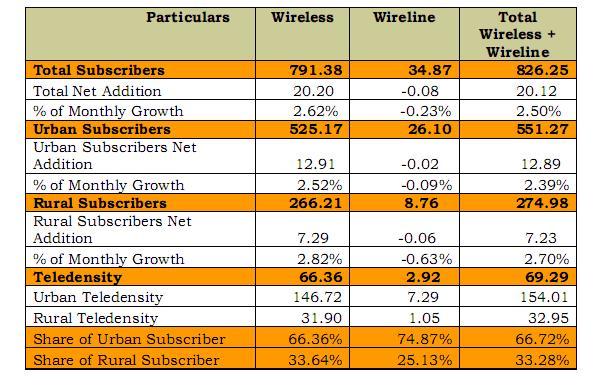 Source