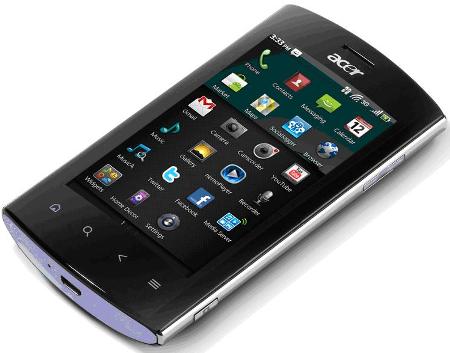 Acer has officially launched an android 2.2 powered smart phone. The Acer Liquid Metal is a slick looking smart phone with a metal casing. The design is striking and the phone feels good in the hand as it has a curved back. Stainless steel is used and the phone is pretty strong and sturdy, and the chrome finish gives a nice styling to the phone.  The phone designed keeping in mind the standard of smart phones these days. Liquid Metal also won the Japan's Good Design Award for its well designed product feature. Available in Silver, Brown and Tiffany Blue, the Acer Liquid Metal is bound to impress the tech- savvy, style conscious consumer. Acer Liquid Metal is priced at about Rs. 20,500
.
The launch saw Chief Marketing Officer of Acer India, Mr. S. Rajendran commenting, "We have always enhanced our product portfolio keeping consumer needs in mind. Powered by a new breed of processors, the Android platform and wireless connectivity, Acer Liquid Metal enables fast and efficient web browsing while providing a host of other unique features that makes it an ideal Smartphone.  We will be launching more smart phones in the near future to meet with the growing demands of our consumers."
The Acer Liquid Metal is powered by Qualcomm Snapdragon Core processor which clocks at 800 MHz and performs exceptionally great providing smooth performance and quick response. The screen is a large 3.6 inch TFT capacitive touch screen having multi-touch and a resolution of 480×800 pixels. There is also a small led in the top that reminds users of missed calls, text messages and need of battery charge, pretty neat I must say. It is 3G enabled and provides speeds of 14.4Mbps at HSDPA. There is also onboard Wi-Fi providing high speed internet claimed to provide 10 times more speed than previous devices.  A jumbo 1500mAh battery provides a good backup of 550 hours in standby and 8 hours in talk time. A 5 megapixel snapper with an LED flash provides decent pictures and records video at 720p HD. There are also 4 function keys below the touch screen providing basic functions of the phone.
A new interface is embedded called the Breeze which is said to run applications more efficiently and smoothly. Breeze has a customisable home screen and user can change the applications according to their needs. Users can also view information on the phone without having to unlock the phone. The Breeze is not being called as a widget organiser, rather it is being called a new way to utilise android.