While latest smartphones are touching the 5 inch display size, Acer has decided to go old school with a smaller smartphone and has aimed it towards the emerging markets.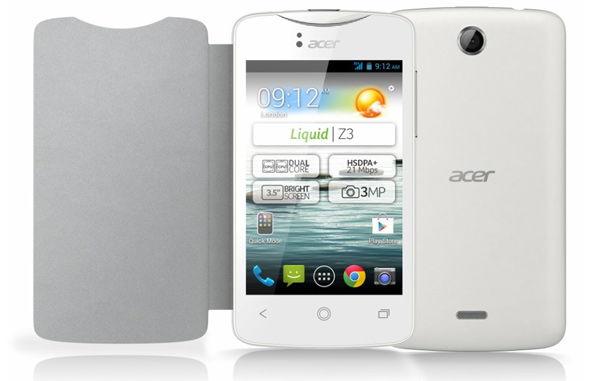 The Acer Liquid Z3 has a very small 3.5 inch low resolution display. The device is powered by an entry level 1 GHz dual core processor along with 4 GB of internal storage. The device has just a 3 MP rear camera. Interestingly the device has the Android v4.2 on board.
Although the Acer Liquid Z3 doesn't seem to have any ground breaking specs, the device has several pre-defined user profiles, which include a Basic Mode, for youngsters with call and text functions, a Senior Mode, with access to messages, radio, weather, magnify, clock, quick call contacts, the Classic Mode, for first time smartphone users and the Keypad Mode for people using the keypad only.
As the Acer Liquid Z3 is targeted towards budget-conscious consumers, the device has support for Dual SIM. Along with that, the smartphone can use the AcerCloud which is Acer's cloud-based service. The device is expected to be priced as low as $132.
Specs of the Acer Liquid Z3:
3.5 inch display
1 GHz dual core processor
4 GB internal memory
3 MP primary camera
Google Android v4.2 Jelly Bean