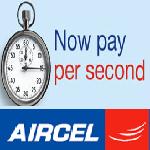 Aircel,a joint venture between Maxis Communications Berhad of Malaysia and Sindya Securities & Investments Private Limited has been aggressive since its launch in Maharashtra circle offering local calls as low as 25 paise/min and providing GPRS access for as low as 98 rs/month.Now Aircel has come up with "Pay Per Second" billing scheme for its prepaid customers making it even more easier to stay in touch with near and dear ones across india for as low as 1 paise/sec without any extra pack.

To subscribe to this scheme user has to dial 123 and select option "6" in the IVR.The said scheme will be activated in next 12 hours without any activation charges.
User can also activate this plan by doing an e-recharge of 1 rs or sending "SECOND" to 53382 without the quotes.
Tariff:-
All local calls @ 1 paise/sec

All STD calls @ 1 paise/sec limited to 10,000 seconds per month after which the user will be charged 2 paise/sec for making STD calls.

All local SMS @ 60 paise

All STD SMS @ 1 rs.
Subscriber can club other offers like the sms pack or pocket internet with this plan.

We Say:-
This is a very clever move by Aircel as Tata Docomo and BSNL are the only providers providing Per Second Billing in Maharashtra.BSNL charging hefty amount to avail this facility so the main competition is between Docomo and Aircel when it comes to per second billing.Go for this scheme if u r already with Aircel.