Aircel Signs Tower Sharing Agreement with BSNL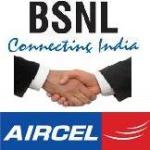 Aircel became the first operator to sign a passive infrastructure sharing agreement with Bharat Sanchar Nigam Limited (BSNL). Aircel, the fastest growing operator, which currently has approximately 32,000 base stations, will now have access to approximately 45,000 BSNL towers across all its circles. A significant portion of BSNL's sites are electrified. Sharing these towers that cover 96% of all districts across the country will help Aircel expand its footprint and gain time to market.

Mr Gurdeep Singh, COO, Aircel, said, "This is a historic moment for the company.Aircel will now have access to strategically located sites across BSNL's 21 circles (excluding Mumbai & Delhi). Leveraging BSNL's passive infrastructure will help Aircel meet its aggressive network roll out plans in addition to reducing operational cost."

Mr Kuldeep Goyal, CMD, BSNL added, "We are happy to partner with Aircel. BSNL has a strong nationwide coverage and offers the best value proposition in the Indian telecom market.  Our objective is to provide quality and reliable service and thereby increase our partner's confidence".