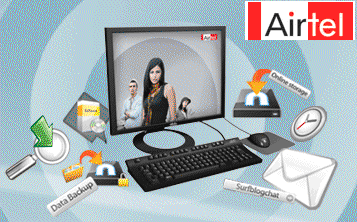 Telecom major Airtel launched its Cloud base Net PC initiative that provides Internet connectivity to users without the need to invest in personal computers (PC). Till now, only the state-owned telecom operators Mahanagar Telecom Nigam (MTNL) and Bharat Sanchar Nigam (BSNL) offered similar products in collaboration with hardware maker Novatium.
Airtel net PC is available for Rs.7,999, the no-frills PC will offer customers the choice of three Internet plans in a monthly price band of Rs.699-Rs.1,199, which would include Microsoft's Office Suite software.
Airtel is offering net PC with three tariff Pack – Home Pack at Rs. 699 per month, Professional Pack at Rs. 899 per month and Business Pack at Rs. 1,199 per month.
The Home Pack gives 256 kbps Airtel broadband connection with 3GB data transfer limit, online desktop service with 10GB storage and Genuine Microsoft Office standard.Professional pack offers Airtel broadband at same speed with data transfer limit of 10GB and online storage and MS office standard with Admin rights. While the Business pack also offers the same 256 kbps broadband connection with 3 GB data transfer limit, 10GB online storage and MS Office Premium with Admin rights.
With Cloud base Net PC, users can also work on basic computer functions like word documents and presentations through centrally-placed software and hardware. Airtel has partnered with Indian hardware manufacturer Nivio and global software giant Microsoft for the service.Cloud computing is a style of computing in which dynamically scalable and often virtualized resources are provided as a service over the Internet. Users need not have knowledge of, expertise in, or control over the technology infrastructure in the "cloud" that supports them.
"Net PC is part of our strategic intent to remain focused on enhancing the broadband experience for our customers by offering innovative and collaborative products," said Bharti Airtel's telemedia services joint president K. Srinivas.
To Know more on Airtel Net-Pc just sms 'NETPC' to 53636 or call 1800 103 021