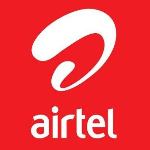 At this time of year everybody thinks of discounts and gifts, well airtel's new year gift for its subscriber is increased GPRS cost. Internet Broswing on airtel will now cost you more if you are not using any GPRS Pack. airtel issued a Public Notice in leading newspapers stating that Internet Mobile Service charges will be revised from existing rate of 30p/50KB to 30p/20KB from 5th January 2011. Also, airtel started its subscribers for browsing airtel Live WAP Portal at the rate of 30p/20KB from yesterday i.e. 28th December 2010.
Here is the Airtel Public Notice :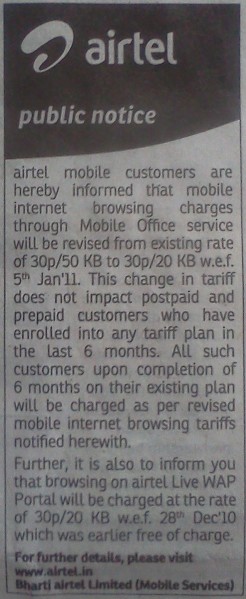 From the notice its clear that it will not affect the airtel users who are using any GPRS packs. Only those who are not using any GPRS packs will be affected with this tariff hike. Since most of the users use GPRS packs, so probably this hike won't create much of an impact.
Will this hike impact you? Share your views about it.