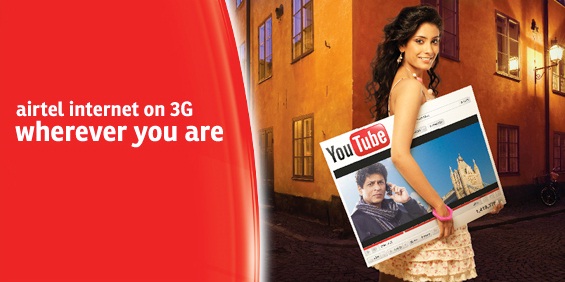 Airtel today announced the launch of its 3G services in Bharatpur, Dausa, Pratapgarh and Chittorgarh. Following the launch of Airtel 3G services across Jaipur, Ajmer, Kota, Udaipur, Jodhpur, Bikaner, Bhilwara, Chomu, Jaisalmer, Barmer, Balotra, Alwar, Banswara and Dungarpur.
Speaking on the occasion, Mr. Sudipto Chowdhury, CEO – Rajasthan, Mobile Services, Bharti Airtel said, "We are delighted to extend the launch of Airtel 3G services to Bharatpur, Dausa, Pratapgarh and Chittorgarh. As we expand the availability of our 3G services across major cities and towns of Rajasthan – we look forward to lighting up the entire state with Airtel's world class 3G network. We welcome our customers in Bharatpur, Dausa, Pratapgarh and Chittorgarh to experience Airtel 3G and become a part of this all new world of possibilities."
A wide range of LIVE and on-demand TV channels as well as shows are now available on Airtel 3G Mobile TV. To subscribe – customers can use their mobile phones to visit the '3G Zone' on Airtel LIVE, select Mobile TV, simply download and install the application, select their favourite TV content – and start viewing.
Apart from Mobile TV, Airtel 3G will offer its customers various other service offerings including video calls, high speed internet and video capabilities on social networks. Enabling fast internet access on-the-go, Airtel 3G high speed USB data cards are also now available for laptop users.
All these services can be enjoyed seamlessly as Airtel provides its customers with timely updates and alerts on their data usage. The company has also introduced an 'internet usage calculator' available online to help customers analyse their current internet data usage and choose an Airtel 3G plan accordingly.
To know more or join Airtel 3G services – customers can visit http://www.airtel.in/Airtel3G/ , call 12134 (tollfree) or SMS '3G HELP' to 121.