Bharti Airtel, India's largest telecom service provider, has put an end to the roaming charges across the country. These radical changes include removal of all the premium charges that incur during incoming calls, outgoing calls, SMS and Data plans.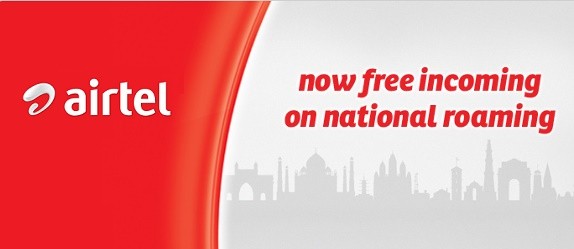 Airtel wants to ensure that their customers shouldn't worry about the roaming charges applicable when they carry their phone number outside their home location i.e. across India and overseas. Now you can enjoy all the primary services of Airtel within the country without any roaming charges. This will let you worry less about your outrageous bills generated when you are on roaming. The scheme is applicable from 1st April 2017.
Gopal Vittal, MD & CEO (India & South Asia), Bharti Airtel said, "This marks the death of national roaming and the whole country will now be like a local network for our customers, who will not have to think twice before making or receiving calls or using data while traveling outside their home base. Airtel has again set the benchmark in delivering best in class value backed by a great network experience."
For international roaming, Airtel has launched affordable tariffs for its International Roaming in the major countries. The international roaming packs come with a validity of 1 day, 10 days, and 30 days offering many benefits that include the free incoming calls and SMS. The scheme will automatically adjust the price applicable for the customers who don't buy a roaming pack.
The company further said, "Starting April 1, 2017, even customers on international roaming Without a Pack will be fully protected from bill shocks through an automatic adjustment that is equal to the daily pack for that particular country. This means that the moment a customer's billing reaches the price of a one day pack for the country, he/she will be automatically moved to that pack. Even post the exhaustion of pack benefits, customers will continue to enjoy extremely attractive rates for calling and data usage. Call Charges have been reduced by up to 90% to as low as Rs. 3/min and data charges by up to 99% to Rs 3/ MB across popular roaming destinations,"
The Airtel's new international roaming pricing work like this – When you travel to a country say United States without a valid pack and your hit a threshold of Rs 649 which is the actual price of 1 day pack for the US, your number will automatically be converted to one day pack which lifts any further Airtel roaming charges and leads to the benefits of free incoming calls, SMS, 100 outgoing minutes to India and local country and 300 MB data.
Sunil Bharti Mittal, Chairman, Bharti Airtel said, "At Airtel, we are changing the international roaming paradigm, which will allow our customers to take their number to every corner of the world. As an industry, operators across the world must collaborate to remove the cost barrier to roaming and offer customers the convenience of staying connected without the fear of exorbitant bill charges."