Airtel SmartDrive mobile app launched, provides voice navigation & live traffic information
Navigational tools and apps have today become a necessity in our country and to keep pace with the industry Airtel has today announced its very own 'SmartDrive' mobile app enables the users to view their location on a map and plan their route from one place to another.

The route which a user chooses is assisted by a voice based turn by turn navigation and it

also give

real time information on traffic situation on roads around them. If there is a jam or heavy traffic, the app even suggests an alternate route from place A to place B.

Airtel's SmartDrive app is a complete navigation application giving the below features to its users:

Search for POI

With SmartDrive you can easily search and get the exact positions for your destinations. Points of Interests (PoIs) are grouped into categories like restaurants, theatres, shopping malls etc. Once the application is downloaded this feature can be used absolutely free of cost.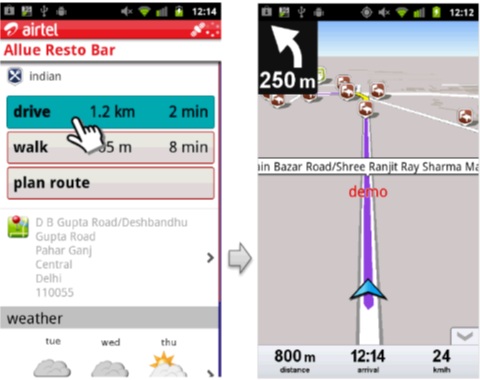 SmartDrive

will guide you to reach the place of your choice by giving you turn by turn directions. What's more you can choose the fastest way you want to take as

SmartDrive

will also give approximate time the journey will take basis the traffic on the various routes.


Traffic is calculated basis the number of GPS devices being used on the particular road and their average speed and historical trends of traffic. Currently, it is live in Delhi & NCR, Mumbai and Bangalore and will be live in Hyderabad, Chennai and Pune

by

December.

The app gives traffic status on major roads in a colour coded format as described below:

Red – implying heavy traffic

Yellow – Medium &

Green – Free flow of traffic
To get the SmartDrive application:

Visit

airtel

.

in/

smartdrive

from your mobile and then download the application
or
SMS smart to 54321 and then click on the link in the message. The app is available on multiple platforms including Android, Symbian, BlackBerry and Windows Phone and it will soon be available
on
IOS.


Search and map viewer are absolutely free but Navigation is charged as a Daily pack of Rs/10 per day and a Monthly pack of Rs. 99 per month. Live traffic is also available in two packs: Daily pack – Rs.3/day and Monthly pack – Rs.49 per month.

Please Note: Data browsing is absolutely free till 30th November, post which normal data usage charges will apply as per the data pack availed by the customer.