Android 4.1.1 Jelly Bean rolling out to Galaxy Nexus HSPA+ and Nexus 7
Google has today started to roll out the Android 4.1 update to the Galaxy Nexus HSPA+ smartphones which is international version.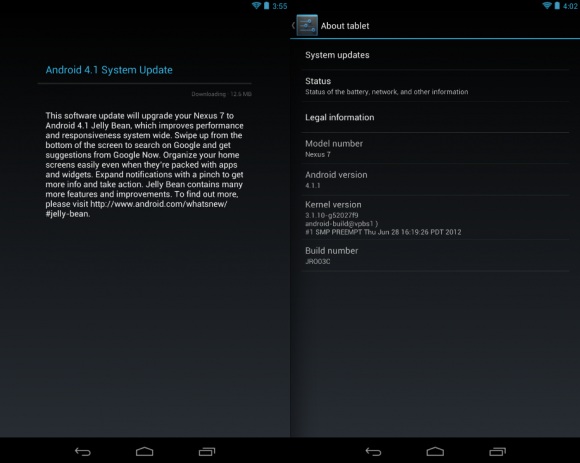 With this update all the owners of the international version of the Galaxy Nexus would be able to enjoy some Android Jelly Bean love from Google. Also along with the Galaxy Nexus the same update which is Android 4.1.1 is also rolling out the yet-to-arrive Nexus 7 tablet.
Though the Nexus 7 has not yet reached the consumer, Google has decided to still roll out the update to the lucky few who got the tablet at the Google I/O. Users who have updated to the OS, say that the local search options remain the same. This search option has remained the same because the Federal Appeals Courts has stayed the injunction that Apple was able to apply on the Galaxy Nexus.

Changes that have been mentioned in the Android 4.1 System Update screen include the following:

"Swipe up from the bottom of the screen to search on Google and get suggestions from Google Now. Organize your home screens easily even when they're packed with apps and widgets. Expand notifications with a pinch to get more info and take action."

Google has also said that CDMA/LTE version of the Galaxy Nexus would go on to receive the update next along with the Galaxy Nexus S and Motorola Xoom tablet. So all the users who own any of these devices, you should get ready for the notification to pop up soon.

The Nexus 7 would arrive in India only by October so we'll still have to wait a bit until we get over hands over the 7 inch Jelly Bean running tablet.