Remember when we told you that Samsung Galaxy S will receive a 'Value Pack' instead of the Android 4.0 upgrade which will bring in a few features of the Android 4.0 Ice Cream Sandwich? Well it seems that Samsung has finally released the 'Value Pack' for the Galaxy S, at least in Korea.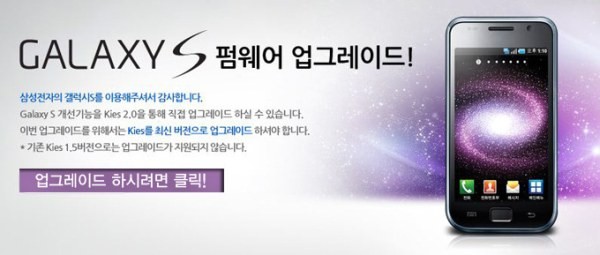 The 'Value Pack' that we are talking about was also previously leaked and also carries most of the features that were present in the leaked version.

The Value Pack is also available for the Galaxy K and Galaxy K in Korea. It goes on to bring in the following features to the devices: 
Face Recognition (Face Unlock)

Ability to capture pictures while on the video recording mode and addition of a photo editor.

Addition of the ability to change font size in some applications.

Launcher features some improvements such as adding a folder.
To get the Value Pack onto your Galaxy S, all you need is Kies 2.0 and a bit of open storage space and hit the source link below to download the update. Though we fear that Indian owners of the Galaxy S will be able to download the update or not but Korean owners can. 
 
If any of you Galaxy S user is able to download the update successfully, then do let us know in the comments below.