Android ICS update for Samsung Galaxy S II coming March 10th [UPDATE]
We just posted about the Android 4.0 upgrade regarding the HTC Sensation models, well now another news regarding Android 4.0 ICS upgrade has broken lose. Samsung has confirmed that the Galaxy S II will be receiving the Ice Cream Sandwich upgrade from the 10th of this month.
The update will be available via Kies software and FOTA (Firmware Over the Air).

The new update will be available for the global GT-I9100 version first which off course will be patched up with the TouchWiz UI. New features will include Face-Unlock, Android Beam, new multitasking, new apps and off course other UI and feature upgrades.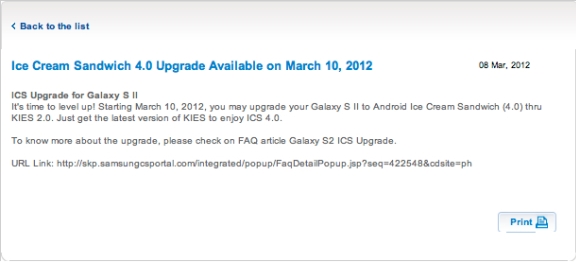 While we aren't very sure about the regions that will get the update first, we'll keep checking for the updates if they are available in the country. Also, if you do manage to get the update, make sure you have the latest Kies software and if you are trying FOTA, you should have a fast and a stable connection.
For more info about the update visit this link over here.

Update: Well it seems that the excitement was short lived, as Samsung has now tweeted and said that the Android 4.0 ICS upgrade for the Galaxy S II will not be arriving on the 10th of March. Once the update is ready for roll-out, Samsung will inform on twitter itself.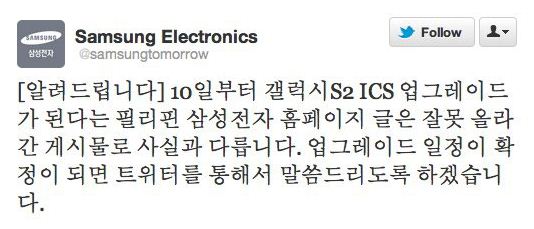 The crooked translation of the Korean tweet above comes down to: "Let you know that the upgrade from 10 Galaxy S2 ICS Samsung Electronics website Filipino ascended to the post wrong article are not true. Once the upgrade schedule is confirmed through twitter let me."
Samsung Tweet