As expected, Google has announced the Android M Developer preview at the Google I/O 2015 Developer Conference.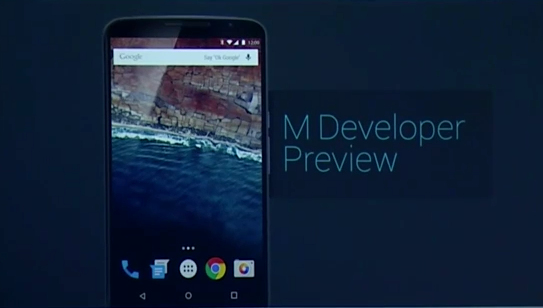 Google has announced the launch of the next Android version, which is currently given the placeholder 'Android M'. The company claimed that it would be the most polished Android release to date and would focus on improving the core user experience.
The Android M version would focus on App Permissions, Web Experience, App Links, Mobile Payments, Fingerprint Support and Power & Charging. The platform will now offer users an opportunity to select permissions like location, camera, microphone, contacts, phone and SMS manually.
The company also released the Android Pay platform which would allow users to use NFC and Host Card Emulation. The platform will work in 700,000 stores in the US and it'll also work with Visa, MasterCard, AmEx and Discover cards and can also be used for in-app purchases. The Android M Developer preview will be available for Nexus 5, 6, 9 and Player starting today. The stable version will be released in Q3 2015.