Everyone's wait was over yesterday when Google finally revealed the official name of Android N. Yes, Android N is now officially called Android Nougat. And, soon after the announcement was made by Google, HTC was quick was to confirm that HTC 10, One A9 and One M9 will be getting Android Nougat update.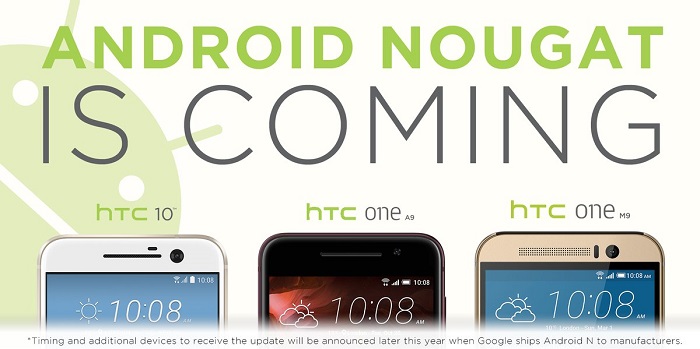 HTC made this announcement on Twitter by tweeting "So sweet. Android Nougat—the next version of Google's Android—will be coming to the HTC 10, HTC One A9 & HTC One M9."
HTC also shared an image along with the tweet which showed all the three HTC smartphones – the HTC 10, HTC One A9 and One M9. While there's no exact date as to when these devices will receive the Android Nougat update, HTC wrote "Timing and additional devices to receive the update will be announced later this year when Google ships Android N to manufacturers." below the image it shared.
The HTC 10 was unveiled this year and is the company's flagship smartphone for 2016, hence, it's not much of a surprise to see the 10 being listed among the devices which will receive the Android Nougat update. However, it's good to see One A9 and M9 being in the list of devices to receive the update.
While several users of non-Nexus devices will keep waiting for the Android Nougat update once it's released, Nexus users are sure to look down them and make fun. After all, Nexus devices are the first ones to receive the updates, be it security patches or Android version updates. By the way, which smartphone do you own?