Archos has introduced a new model to its Arnova family called the Arnova 9 G2. The tablet is a 9.7-inch tablet running Android Gingerbread.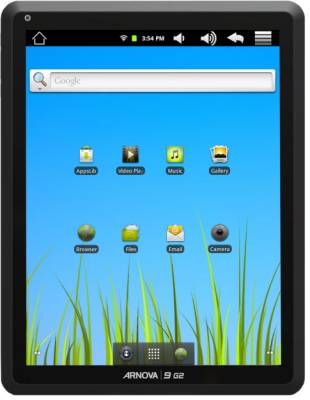 The display of the tablet has a 9.7-inch capacitive, multi-touch 1024 x 768-pixel IPS display, which reminds us of the iPad.
Other features include a 1 GHz ARM Cortex A8 single-core processor, stereo speakers, a built-in microphone, a front-facing camera, 8 GB of memory with a microSD card slot, a USB port & micro USB port, WiFi wireless connectivity. The dimensions of the tablet are at 9.4″ a 7.2″ x 0.5″ and weighs 1.4 pounds
(again, we think of the iPad).
Archos now has a tablet offering in almost all tablet dimensions available including 7, 8, and 10.1 inch display sizes in its Arnova G2 series.