Asus is slowly rising in the ranks, when it comes to the smartphone industry. Although it was kind of a late starter when it comes to the Indian smartphone market, it is slowly and steadily inching towards great market recognition. And this is not without reason. Aside from the kind of recognition it enjoys from its PC goodwill and little presence in the upper etches of the market, the company has completely reinvented its approach and started targeting the mid-range and low-end smartphone market.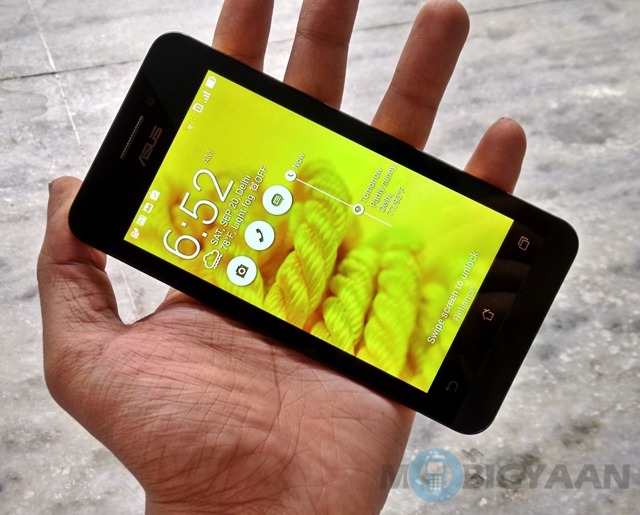 We earlier reviewed the Asus Zenfone 5 and frankly, were left impressed by what it offered at its price tag and now we have its sibling – the Asus Zenfone 4 A450CG also known as the Asus Zenfone 4.5 for you.
While the Asus Zenfone 5 did deliver a bang for your buck, does the Asus Zenfone 4.5 deliver the goodies?
Read on and we will let you know.
Asus Zenfone 4 A450CG specs:
4.5 inch

display

854 x 480 pixels resolution
1.2 GHz dual core Intel Atom Z2520 processor
PowerVR SGX544 GPU
1 GB RAM
8 GB internal memory
8 MP primary camera
0.3 MP front facing camera
Google Android v4

.

4 KitKat
1750 mAh battery
Hardware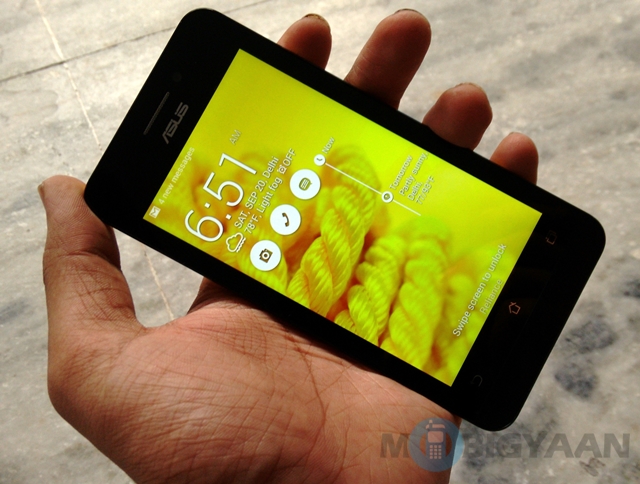 As you  might have seen from the specs, the Asus Zenfone 4.5 is a tad downgraded from the Zenfone 5 in terms of specs. Well, since this downgrade also translates to the price tag, it wouldn't hurt you much.
The Asus Zenfone 4.5 looks akin to its older sibling, the Asus Zenfone 5 and that is actually praise for the handset. It is a little bulky, but yet it will win your heart with its suave style. It is definitely the most stylish handset in the under 10K range and makes all competing handsets look like slabs of plastic. It takes a note from the Zenfone 5's book with its ideal mix of plastic and metal.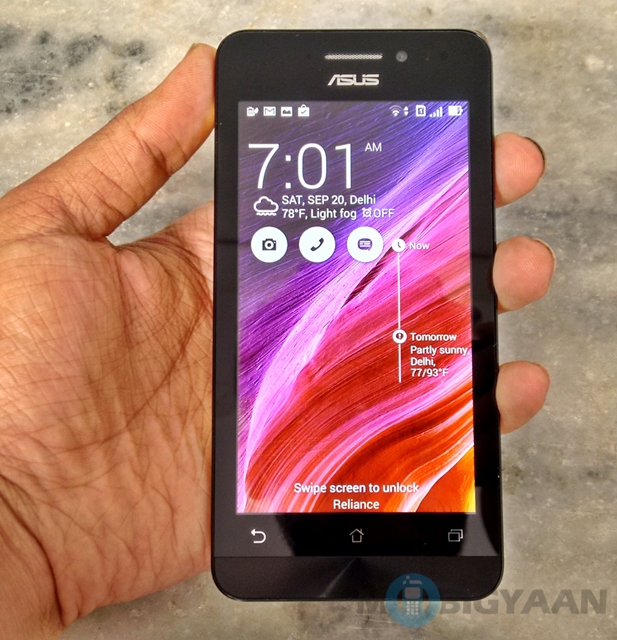 Both the front and back of the handset look pretty cool. Asus hasn't endowed the Zenfone 4.5 with a 720p display, yet it looks good enough. At full brightness, you will be able to hardly guess that this is a 480p display. It is covered by Corning Gorilla Glass, though we did find it a little smudgy.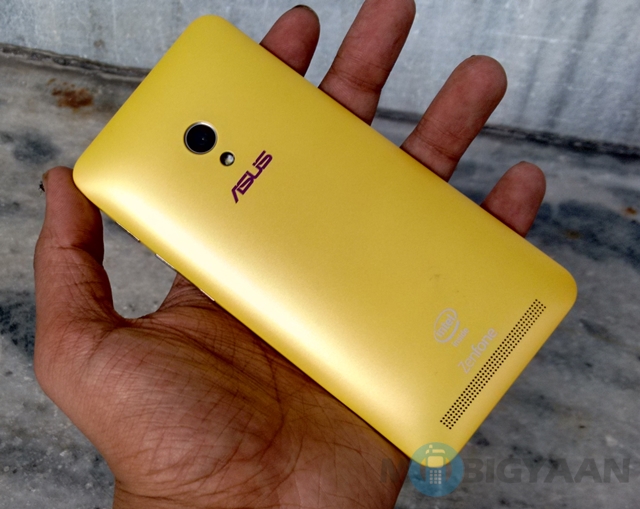 The back though, is where the real style factor of this handset lies. We got a yellow one and though it seemed a little effeminate at first, we aren't complaining. It is definitely and eye-grabber and that is what we loved about this handset.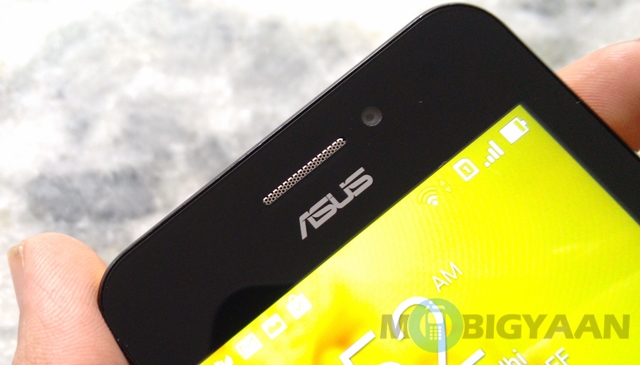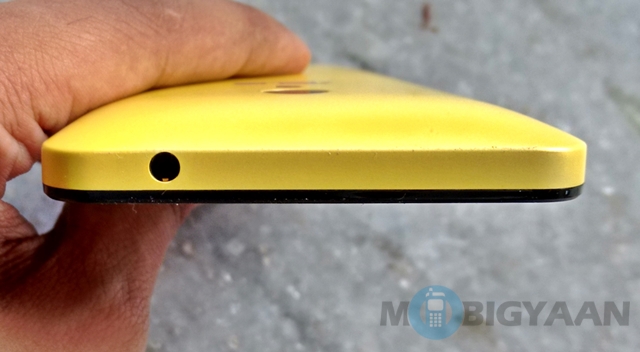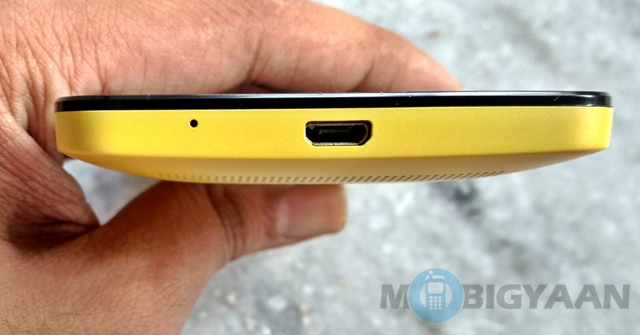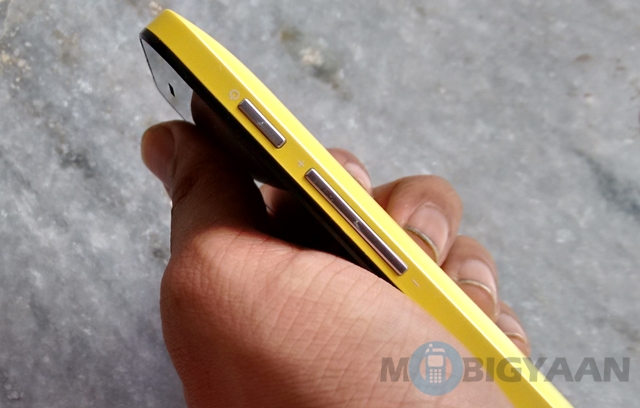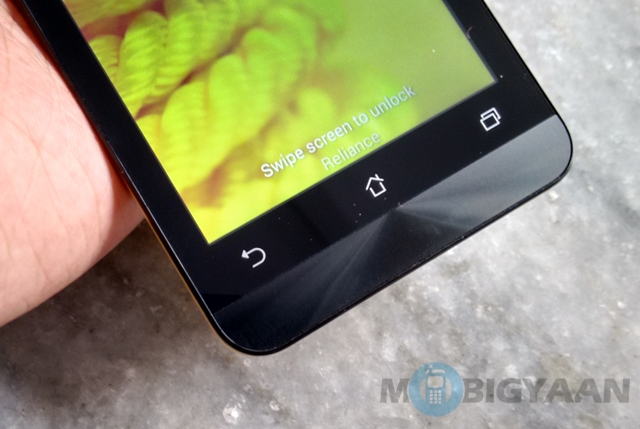 The front cam and speaker are located atop the display, while the capacitive buttons are located at the bottom, just above a metallic circular pattern at the bottom. It has no utility, but is actually there just for the style quotient. While the MicroUSB slot is located at the bottom, the 3.5mm audio jack is located atop the handset. Asus has chosen to endow this handset with just one microphone, at the bottom.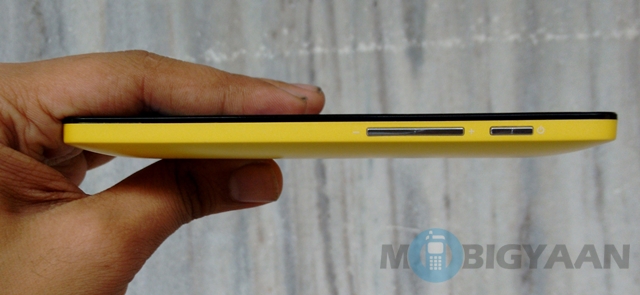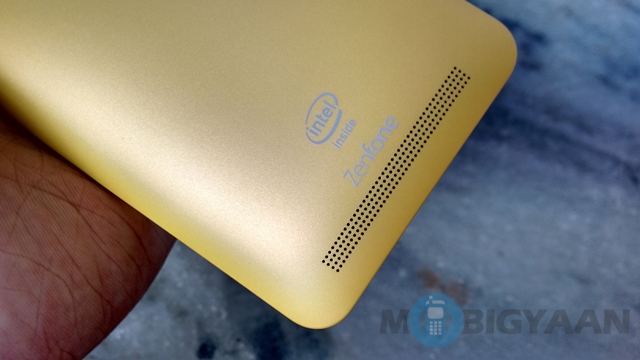 Asus has chosen to put both the power button and volume rocker on the right side of the handset. Unless you are left-handed, you will mostly be comfortable with the button placement.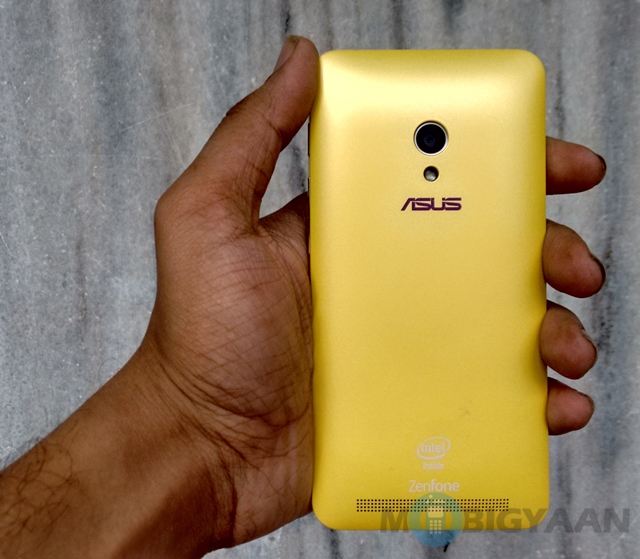 But the real star of the handset is definitely its glitzy back, which we can't stop raving about. It has a smooth, matte feel and comes. The whole Zenfone pretty much stays true to the curved back design and we love them for it. Asus Zenfone 4.5, picks up from Asus Zenfone 5 rather than the Asus Zenfone 4, despite the similarity in the nomenclature. It has a stylish speaker at the back and a camera accompanied by an LED flash.
We give this handset brownie points in the style department.
Asus has, yet again, surprised in terms of hardware. Although, just one small qualm – I would have loved it if they had inked a partnership with Qualcomm instead Intel. But, you can't get everything you wish for, can you?
Display
The Asus Zenfone 4.5 comes with a 4.5-inch 854 x 480p IPS display which is covered by Corning Gorilla Glass 3. It comes with 218ppi display density. The screen is scratch resistant, durable and looks pretty awesome.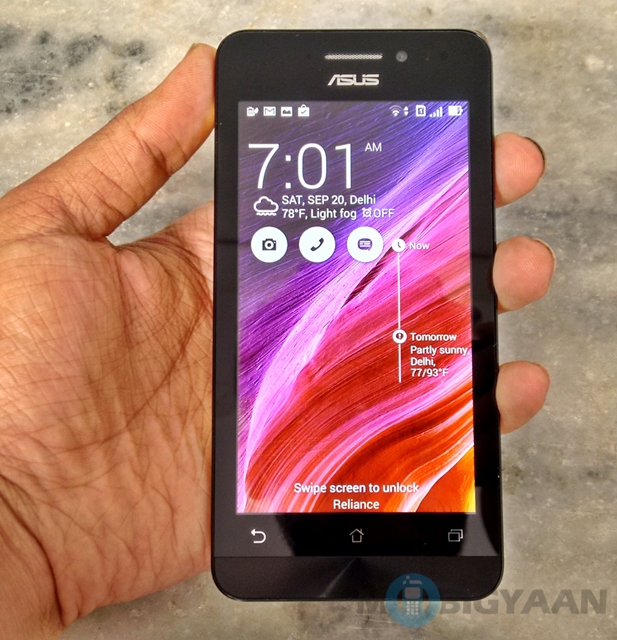 The display mostly works great, though some viewing angles do make it slightly flawed in terms of colors and vibrance, but that is okay, considering the price tag. Mostly it works well.
Unlike the Zenfone 5 display, this one does get more than a little smudgy. But it is mostly something you won't mind too much.
Software
Just like the rest of the Zenfone range, Asus has endowed the Zenfone 4.5 with its own Android skin. Unlike many other smartphones in this price range, the Asus' UI is executed brilliantly and beautifully. I would actually rate it above the Xiaomi MiUi in terms of attractiveness.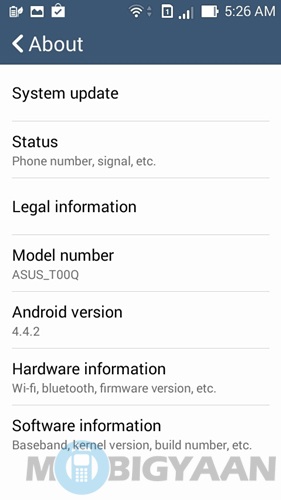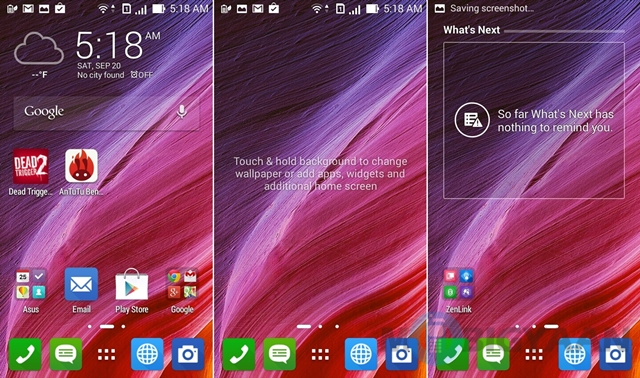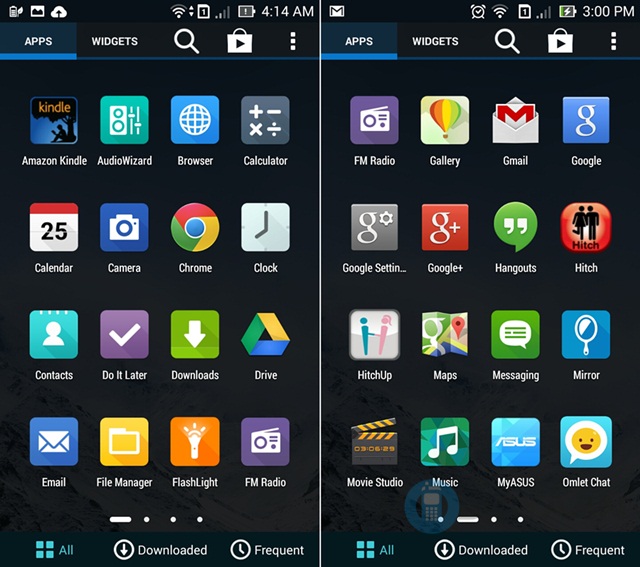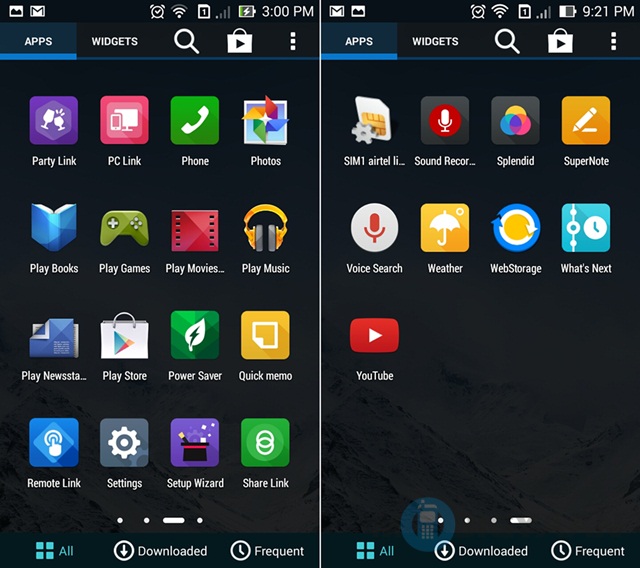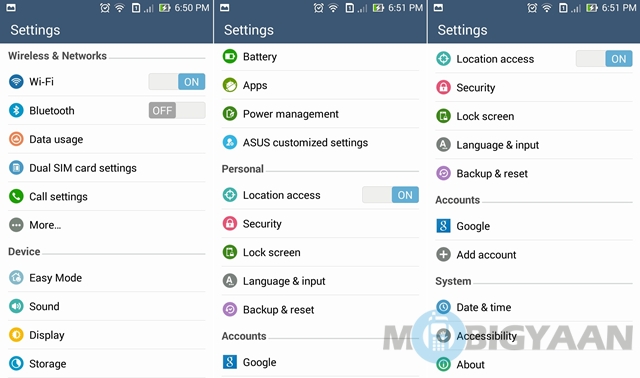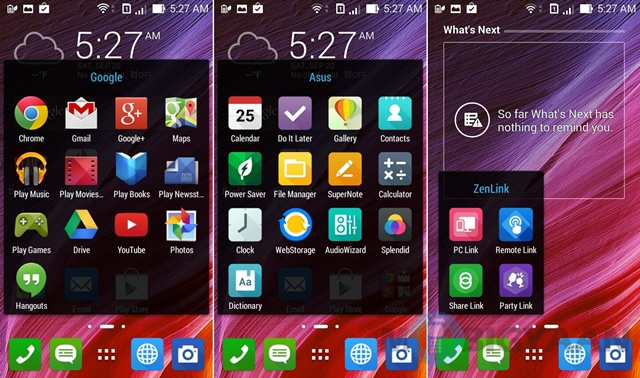 The camera, messaging and dialer apps are accessible from the homescreen. When you open the screen lock, you can see the different folders comprised of  different kind of apps. The Asus, Zen and Google folders make accessing apps easy. The Asus Zenfone 4.5 runs on Android 4.4 out of the box unlike the Asus Zenfone 5, which you had to upgrade.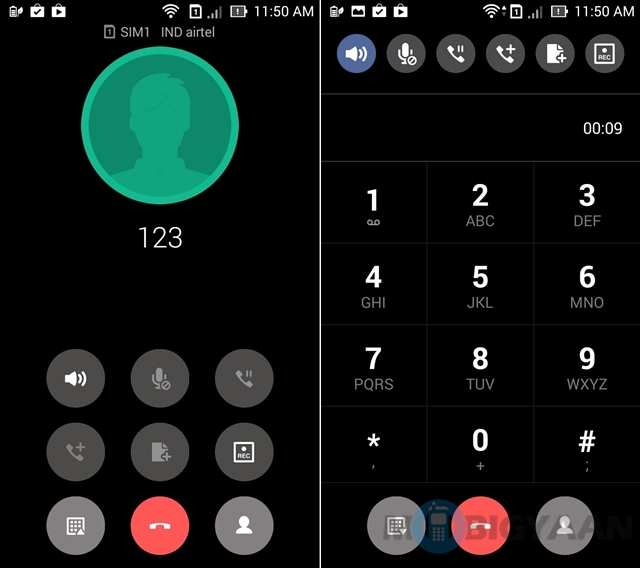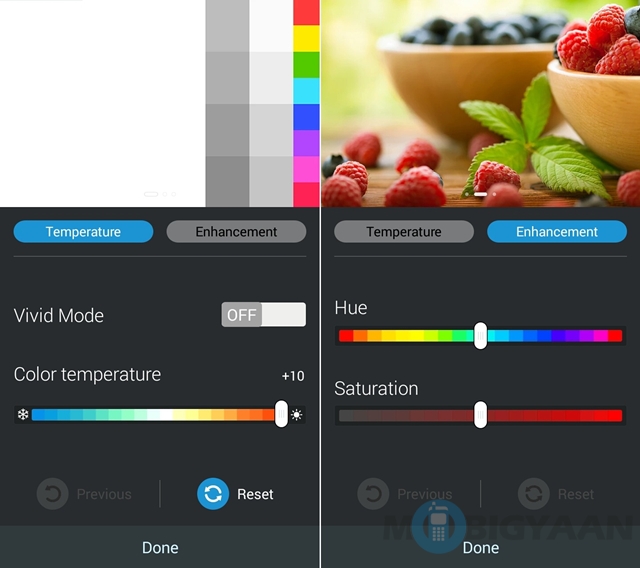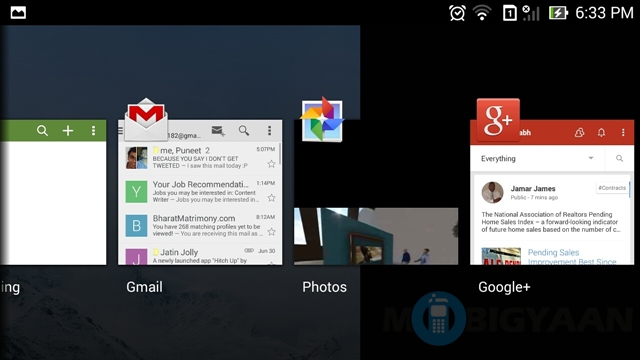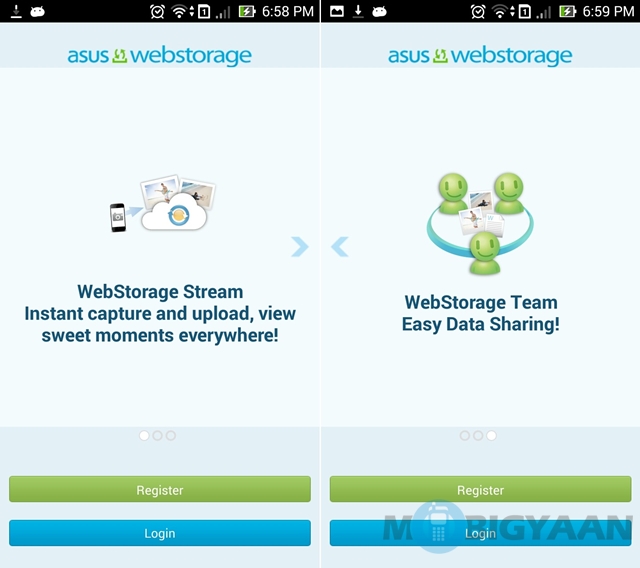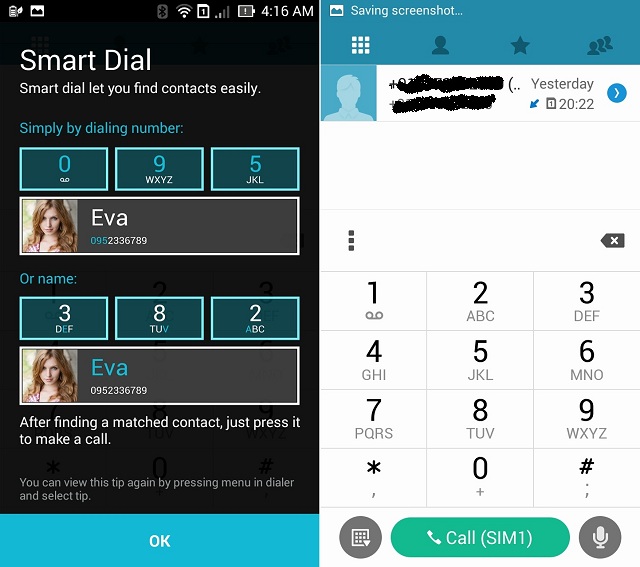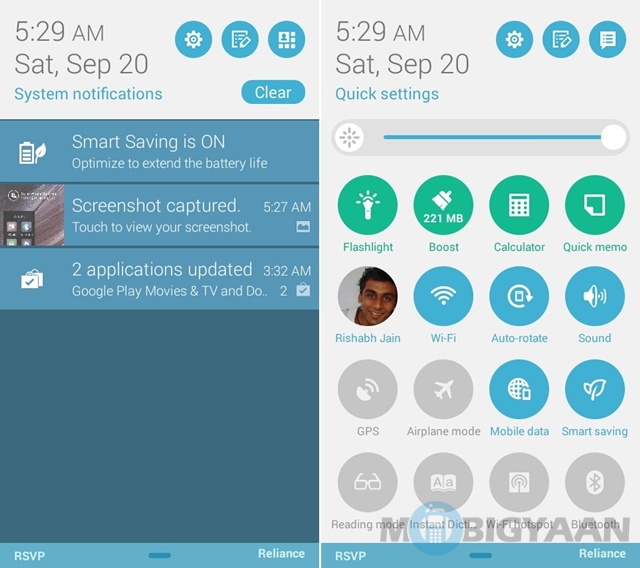 The UI works pretty well. The layout is simple, yet useful. The icons are vibrant and the apps are executed pretty well. There are run-of-the-mill apps on board and also some new ones from Asus.  Just like its siblings, simplicity is the essence of the Asus Zenfone 4.5. Some are useful, while others are not.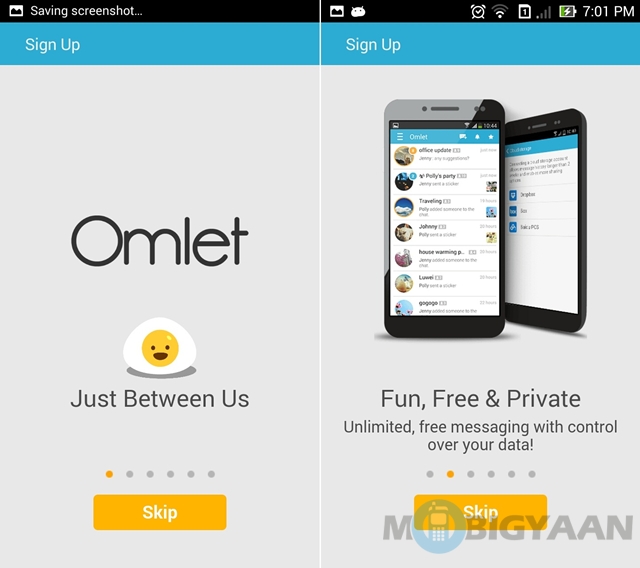 The menu itself is pretty easy to use – the icons are soft and easy on the eyes. The Asus Zenfone comes with some cool apps such as  Kindle and Omlet Chat.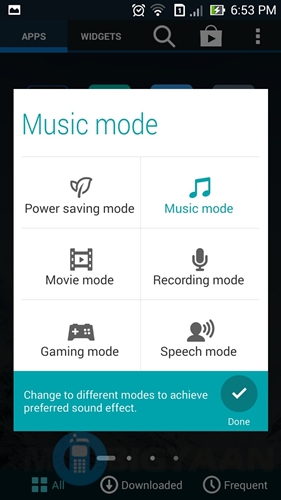 But the most amazing thing that I found was the power saving features of the software. Asus has worked hard on this – As far as the software is concerned, there are a lot of power saving features on-board. An example of this is the Audiowizard, which lets you regulate the sound as per your convenience. You can choose between the Power Saving Mode, Music Mode, Movie Mode, Recording Mode, Gaming Mode and Speech Mode and you can get your desired sound effect. This is the first time I have seen power saving in the context of sound.
Another cool feature is the mirror feature, which lets you use the front cam as a mirror.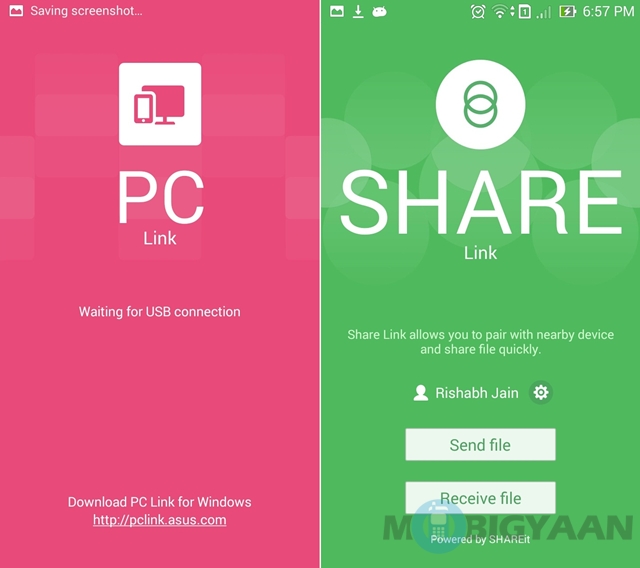 There are also features on-board such as Party Link which will let you share stuff with a group of people. PC Link on the other hand, lets you share stuff with your PC. Share Link is something similar to what Samsung does when it comes to sharing files. It lets you share files easily. It lets you share stuff without Wi-Fi or Mobile network.
But that's not all, there is also an Easy Mode onboard.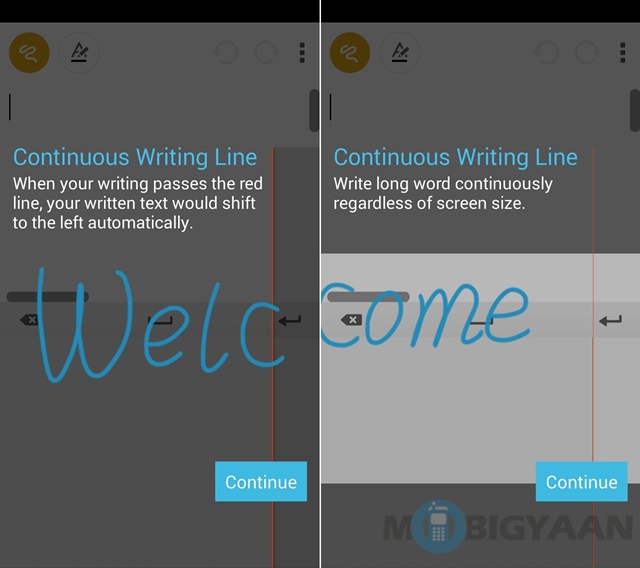 . Another amazing app is the SuperNote app, which lets you create easy notes – all you need to do is type words using handwriting recognition. You can even create or do anything, and it will appear as a text.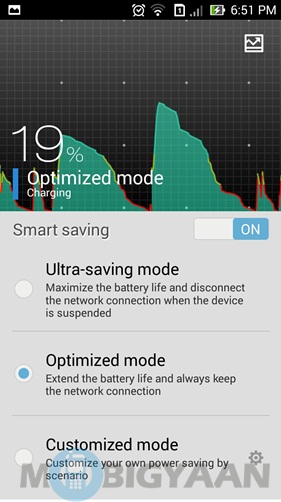 Not only that there are also smart saving modes on-board – There is an Ultra-saving mode which lets you save battery by switching off network connections, an optimized Mode, which lets you  but the best thing is the custom mode, which lets you customize the phone to the extent that you can switch on whatever apps you need.
It works mostly amazingly. But, when you push it to the edge, i.e.try to do a lot of stuff together, it does get a bit sluggish. But, in regular usage, it will not disappoint.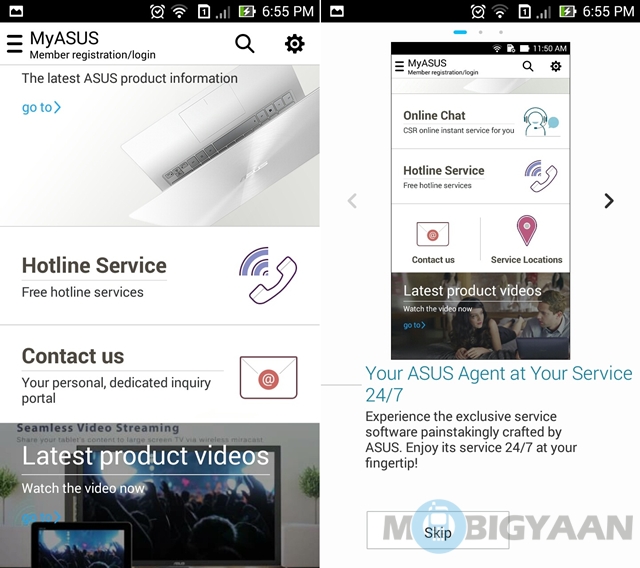 Still, in case you have some problems with the phone, you can easily contact Asus for help.
Camera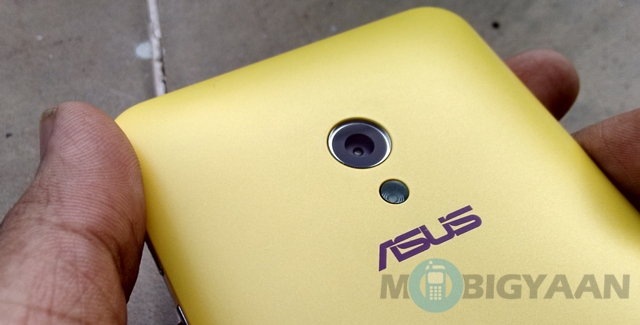 This part is kind of a flubber. After the stellar performance of the exactly same camera on the Asus Zenfone 5, I was expecting nothing less than perfection on this phone. Well, that is where I was both surprised and disappointed.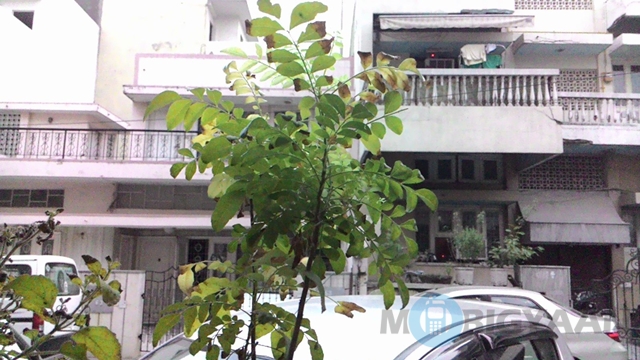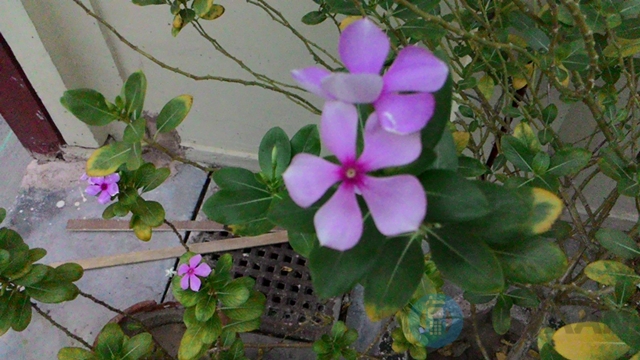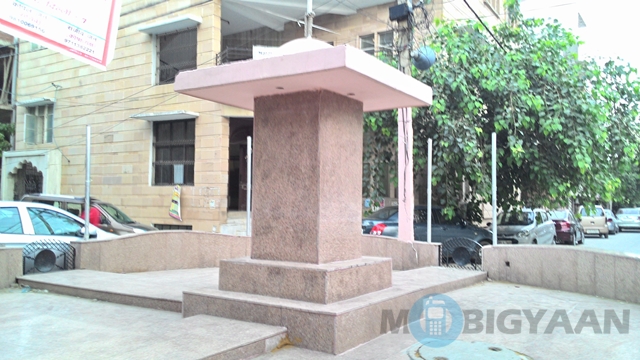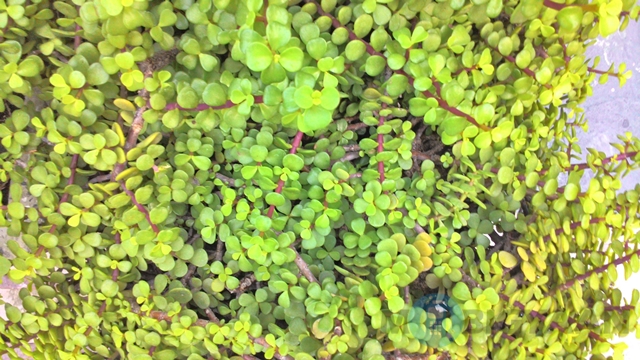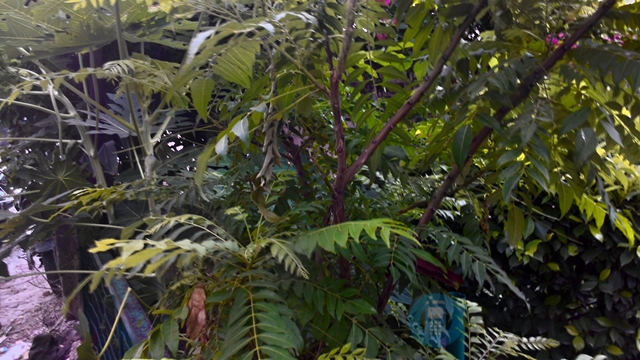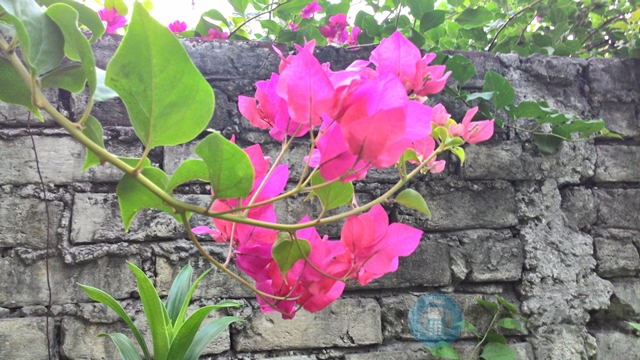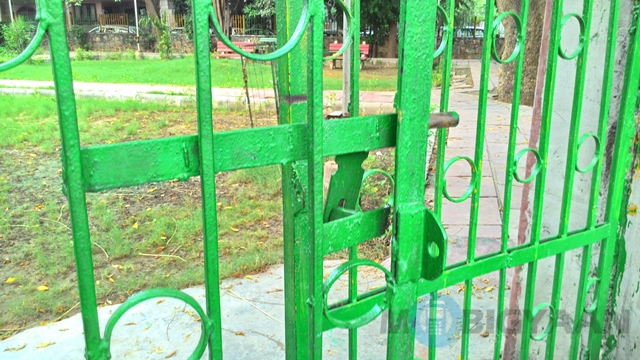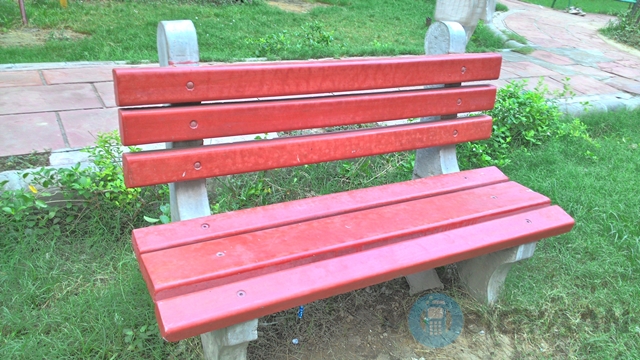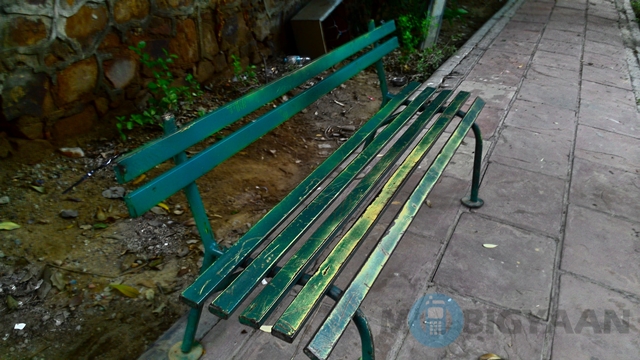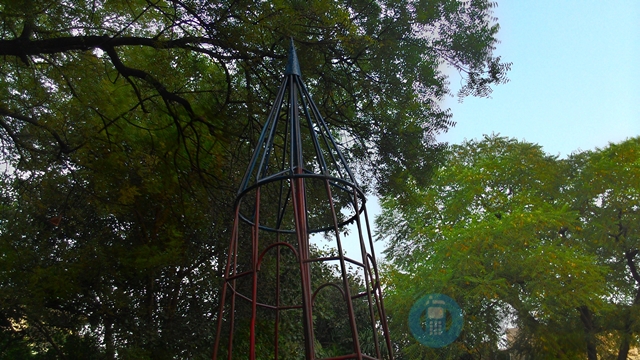 I kid you not, the Asus Zenfone 5 has the exactly same camera at the rear, but there is miles of difference between both handsets in terms of performance. The camera doesn't perform as well as it looks. This is either the product of a wrong execution, or maybe a cheaper lens (the Zenfone 5 had an f/2.0 aperture), It is called a PixelMaster camera, but I wasn't totally satisfied with the performance. This might be where this handset gets trumped by the Xiaomi Redmi 1S, besides the price tag.
They have tried to keep the camera software same as its sibling, but little changes will tell you that you are working with something different. For example, there is no Turbo Video mode, unlike the Zenfone 5.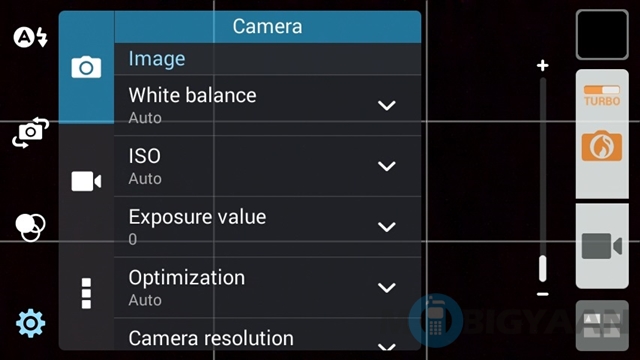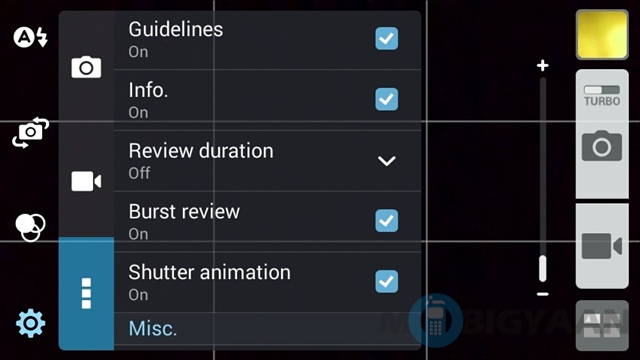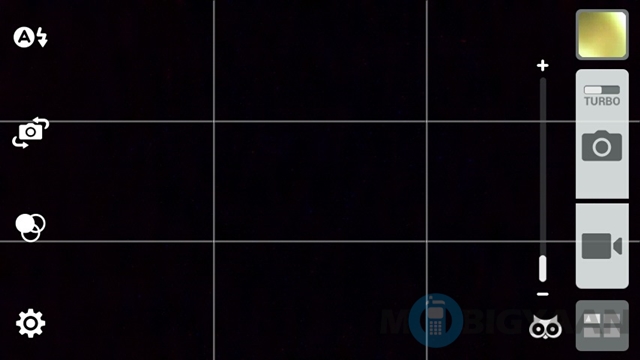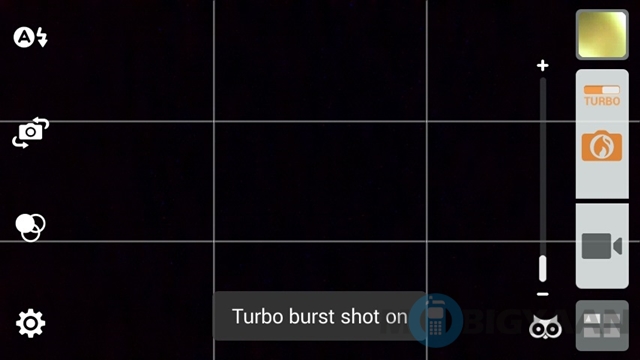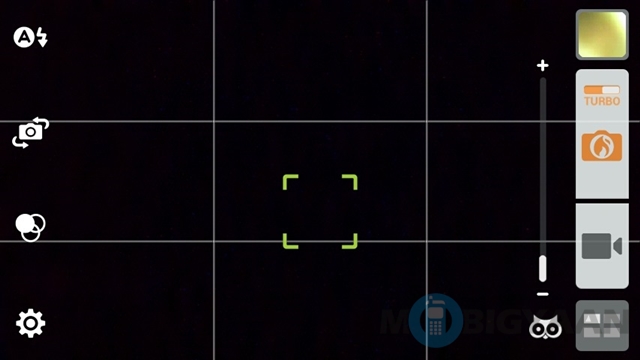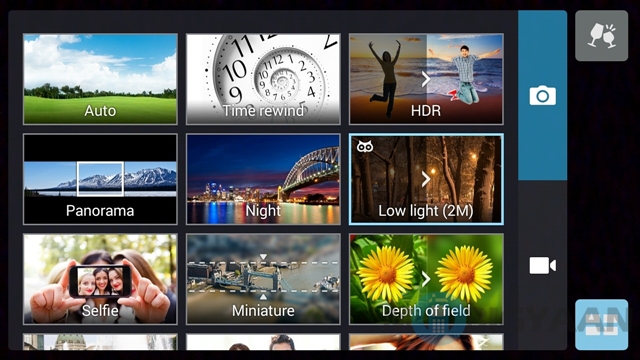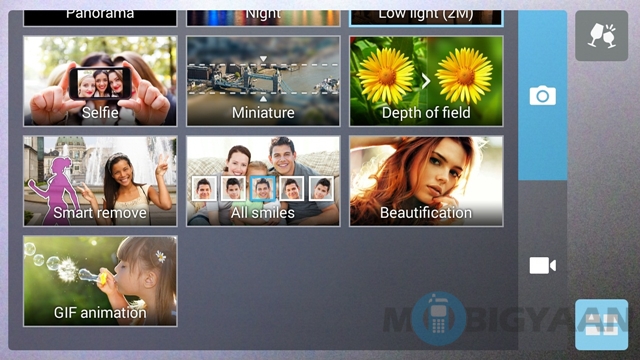 The modes, though remain the same as the Zenfone 5.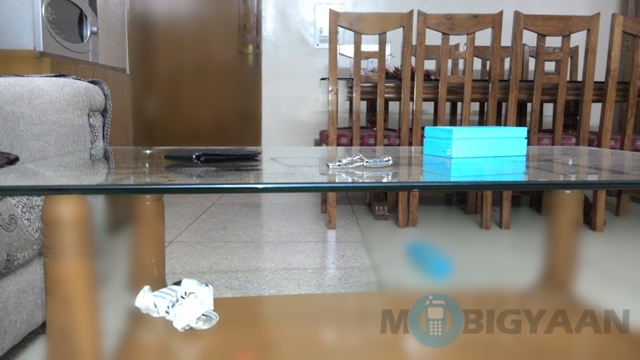 The depth of field mode is still my favorite. Besides which, there is a Miniature Mode on-board which lets you blur photos easily. It will offer you to blur the photos both in a linear and circular manner.The depth of field mode will give you amazing shots which lets easily blur the background and create amazing shots. I would say that this is better than even the Samsung Galaxy S5 or the Sony Xperia Z2. This kind of stuff in a 7K phone was unimaginable until recently.
I wouldn't waste your time on the VGA front cam.
The camera ultimately lets down the Asus brand name a bit, but then, the price tag will still let you cherish it and dance to its tune.
Performance and Battery Life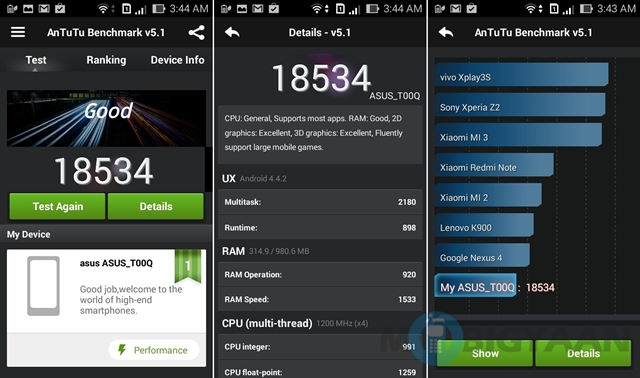 The Asus Zenfone 5 comes with a 1.2 GHz Intel Atom Z2520 CPU, 1 GB RAM and a 1750 mAh battery.
It has a few chinks in the armor here and there, but I wouldn't totally trash it for that. For example, the battery life could have been better. Also, when I did put pressure on it, by playing intensive games such as dead trigger, it showed a little lag and also lost a great amount of battery life in a short time. Heating up, though surprisingly, wasn't a problem.
In totality, despite small flaws, the Asus Zenfone does well for itself.
Verdict
The Asus Zenfone 4.5 is definitely a beauty that will capture your eye at the very start. It is well executed handset. But, despite being a typical Asus handset, it is not an out of the world handset. I would blaim the price tag for this.
If you put it in perspective with the Moto E and Xiaomi Redmi 1S, of course those handset do top it in some way or the other, but that alone doesn't make it a bad handset. It has some good point and some bad ones.
Asus has still created something that is pretty good for a low-end handset and this one is definitely worth looking at. The low point is the camera and the high point is its form factor. Zen UI works as awesome as ever.
In totality, I am mostly satisfied with what Asus offers at this price tag.