BBM for Android and iOS updated, brings stickers and more
BBM, the instant messenger from BlackBerry has just received a brand new update for Android and iOS, which brings stickers, larger file sharing and more.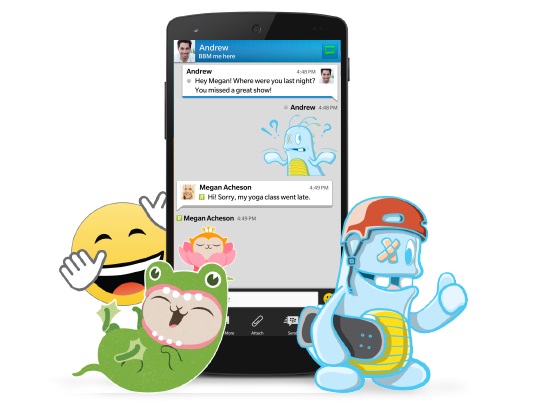 The new update to BBM brings the version of the app to 2.1. The update brings a sticker store, which lets you download free stickers along with the paid ones, which are priced at $1.99. Each sticker pack contains between 20 and 25 stickers. There are a variety of themed stickers and if you are a WWE fan, BBM offers sticker featuring WWE content, just in time for Wrestlemania 30.
Check out the video from BlackBerry showing off the new stickers feature:
https://www.youtube.com/watch?v=Mi1LfK9eOhQ&feature=youtu.be
The other features that the update brings is the ability to send pictures in group chats or as BlackBerry likes to call it – multi person chats. Check out the video below:
https://www.youtube.com/watch?v=X-sTyjEEJW0&feature=youtu.be
The latest update also allows BBM users to send larger files. You can now share files up to 16 MB, which is an upgrade from the previous 10 MB.
BBM 2.1 is now available to be downloaded, so hit the link below for the respective stores and get downloading and do tell us how you like the new update?
BBM – Apple iTunes
BBM – BlackBerry App World
BBM – Google Play Store