BBM v6.1 Beta brings in animated avatar, new emoticons and more
BlackBerry has made available the v6.1 Beta of BBM in the BlackBerry Beta Zone. The new features includes animated avatars, fun new emoticons, customized coloured chat bubbles, increased character count for personal messages and display picture integration.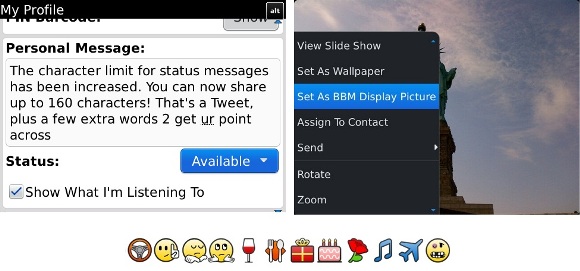 Animated avatars – On the request of all the beta testers and the BBM users BB has finally added animated avatars with this beta version. When you scroll over the avatar, motion is activated. For now, only three animated avatars are available as part of this beta as a sneak peek, which includes a "smile," "laughter" and "in love".

12 new emoticons – BB had made an addition of 12 fun emoticons in your BBM catalogue, for you to be more expressive and to send out more personalized messages to your friends. List of newly added emoticons are as below.

Increased character count for status messages – BB has now more than doubled the size of your personal message space to 160 characters, so that you can now share your status a little more than before with your friends and family on BBM.

Coloured chat bubbles – With the beta v6.1 BBM users will now be able to customize the colour of chat bubbles for contacts. Users will have a choice of about 10 colours to choose from and pre-assign colours to your contacts by simply going into your BBM contacts' profile and selecting a desired contact chat colour.

Camera/Display Picture Integration – With the v6.1 now users will be able to snap a picture and display it right away. Now you can update your BBM avatar right from the BlackBerry Smartphone camera app by selecting "Set as BBM Display Picture" from the menu options.
To download the v6.1 bet of BBM head over to BlackBerry Beta Zone here, login and download it.