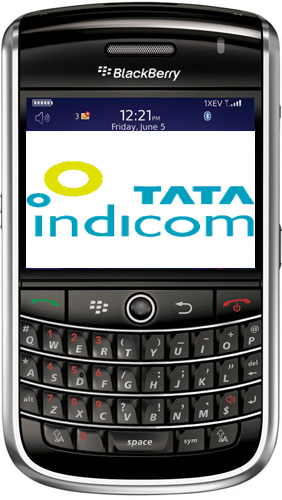 Now you can join the league of BlackBerry Boys on Tata Indicom's network by just paying Rs. 99 per month. Surprised! Well, don't be because Rs. 99/month sounds too good to be true. Tata Indicom customers can now enjoy BlackBerry messaging services(MaiLite), BlackBerry Internet Service and BlackBerry Enterprise Server service by paying Rs 99, Rs 199 and Rs 599 respectively for the first three months. Yup, just for first 3 months these rates will be applicable, after that standard monthly prices of Rs.299, Rs.399 and Rs.900 respectively will be applicable.
The MaiLite plan offers Tata Indicom post-paid customers access to as many as 10 supported e-mail accounts along with BBM (BlackBerry Messenger) as well as other popular Instant Messaging services.
BlackBerry Internet Service plan offers access to up to 10 supported e-mail accounts, BBM, Instant Messaging services, social networking and Internet browsing.
The service plan for BlackBerry Enterprise Server  includes all of the above plus access to corporate data and tight integration with IBM Lotus Domino, Microsoft Exchange or Novell GroupWise.