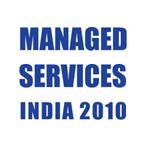 In recent years awareness of Managed Services has increased significantly; Managed Services is a fast growing USD 16 billion industry which is attracting Telecom Operators in a big way, by providing them services such as network build, including planning and design, field operations, Network Operation Center (NOC) operations, application & service development, and billing.
All the major Telecom Operators along with the Leading Companies engaged in Managed Services in India will be congregating at India's Exclusive & Only event on Managed Services, "2nd Managed Services India 2010" – 1 day International Conference, which will be held on April 23 2010 at Le Meridien, New Delhi.
Organized by Bharat Exhibitions, 'Managed Services India 2010', will offer the business platform in the country for Indian Telecom Industry to conduct business & share their strategic Managed Services insights for India with the audience. According to recent research by Forrester – the managed services opportunity in India is $8.7 billion by 2013, with a total CAGR of 19%. According to latest industry reports almost 40% of Indian businesses outsource their infrastructure managed services. In India, the managed services sector will witness tremendous growth in the next five to six years.
According to Mr. Manoranjan 'Mao' Mohapatra, CEO, Comviva – We are proud to be the Presenting Sponsor of Managed Services India 2010, as India is a pioneer in the managed services approach to service delivery. Comviva delivers Managed VAS services, which is a strategic choice for operators. It enables a greater focus on customer needs whilst driving revenue growth. Comviva is the leader in delivering Managed VAS Services in India and is delighted to be sharing our thoughts and experience with the audience at this unique event."
Mr. Shashi Dharan, Managing Director, Bharat Exhibitions the brain behind, 2nd Managed Services India 2010 commented, The event is established as a key meeting point and discussion forum for senior representatives from telecom operators & leading companies engaged in Managed services. And it will examine the current potential & development of Managed Services in India along with strategizing a strong vision for Managed Services as it is an ideal stage between the key influencers and decision makers under one roof.
Making it truly global platform to conduct business, Global majors engaged in Managed Services in Telecom sector – Comviva, Nokia Siemens Networks, Amdocs, Avocent, ZTE, Alcatel-Lucent, Shaildhar Telecom, UBIqube & Zoho are participating in the event & will share their plans for India.
Among the Telecom Operators – Airtel, Vodafone, Idea, Aircel, BSNL, MTNL, Reliance Communications, TATA Teleservices, Sistema Shyam, Virgin, Etisalat, Videocon Telecommunications and Telenor are participating in the Show.