Bharti Airtel launches "Talk-to-me"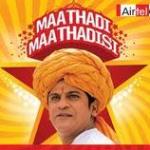 Bharti Airtel has launched the first-of-its-kind revolutionary product "Talk to me on Airtel". The innovative product was launched by Mr. Venkatesh V, CEO – Mobile Services, Karnataka, Bharti Airtel, accompanied by well-known Kannada Film Star Hatrick Hero – Shivaraj Kumar. This new product will now enable Airtel subscribers across Karnataka to connect and interact with their favorite superstars-LIVE at a touch of the button. Airtel is the first telecom service provider in the country which has created this unique platform for its customers to dial, connect and interact with their favorite stars-LIVE.
Airtel Subscribers can call 5432171 through their Airtel network at Rs. 6/min. With the new dial in Service – Talk to Me, customers will be able to connect to the celebrity / singer. The service will allow a select group of callers at a time to connect with the celebrity for a live conversation in a sequential mode. Every caller will be prompted in advance and given equal time to interact with their favorite star through the IVR. The celebrity will have an option of managing the call by extending the time or move to next customer. Going forward Bharti Airtel will connect to the most popular celebrities in the state with their fan base.
Announcing the launch of new service, Mr. Venkatesh V, CEO, Mobile Services, Karnataka Circle, Bharti Airtel said "It has been a significant year at Bharti Airtel – Karnataka circle. With the circle completing 10 successful years of journey in the state, it has always been a game changer with dominant market share. One of the reasons for our success in Karnataka has been the innovative products that we have launched, which has endeared us to our customers. For any film buff, being able to actually speak to a super star, would be like a dream come true. We are delighted for being the first to introduce this revolutionary product, Talk to Me – a live voice chatting platform, that will help connecting our subscribers across Karnataka with their favorite super stars on the Airtel mobile network"
Commenting on the new product, the noted Kannada film actor 'Hatrick Hero' Shivraj Kumar, said, "It's a great pleasure for me to be here at this moment and to be part of Airtel's first-of-its-kind innovative product. I'm also honored for Airtel choosing me as their first celebrity for the unique initiative. 'Talk to Me' on Airtel now connects the subscribers across Karnataka LIVE with their favourite Kannada & Bollywood film stars and that will also help them to use the same platform to connect, communicate and interact with personalities from other genre too."