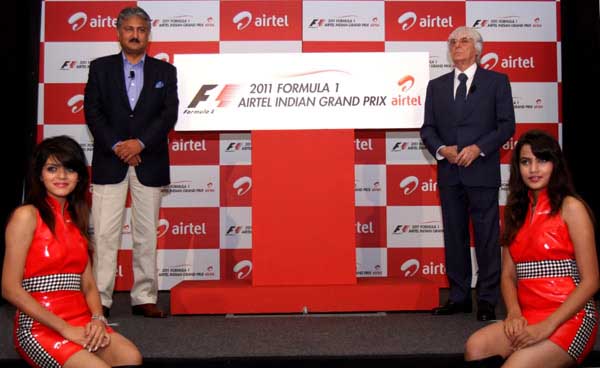 As millions of fans gear up to witness their Formula One dreams come alive in India, Bharti Airtel today joined hands with Formula One Group Companies to announce Airtel Grand Prix of India, India's eagerly awaited F1 foray. Announcing Airtel as 'Title Sponsor' for this sporting event, Sanjay Kapoor (CEO – India and South Asia, Bharti Airtel) and Bernie Ecclestone (Formula One Group CEO) together unveiled the official logo of Airtel Grand Prix of India. To be hosted at Buddh International Circuit in Greater Noida (Uttar Pradesh, India) on October 30, 2011 – this first ever Airtel Grand Prix of India will put India on the prestigious list of countries on the global F1 map and give Indian fans their first ever chance to experience the adrenaline rush!
Announcing the association, Sanjay Kapoor, CEO – India and South Asia, Bharti Airtel said "A sports phenomenon that initially originated from Europe and went across the globe to become a rage – Formula One today enjoys the cult following of a whopping 500 million plus fans. Airtel – with its 200 million plus customers which significantly represent the young and vibrant population, is delighted to be affiliated with F1 to bring this international sports event to India for the time first time ever! Right through its growth path, Airtel has been associated with speed, performance, calculated risks and excitement, the very words that spring to mind when you think of Formula One. Hence, it is only natural that Airtel and Formula One together bring to life the dreams of millions of young and passionate sports enthusiasts in India, giving them an opportunity of a lifetime to watch the very first Airtel Grand Prix of India in person"
Commenting on the announcement, Bernie Ecclestone, Formula One Group CEO said "I am very pleased with our association with Bharti Airtel which has demonstrated that they are the very forward thinking company that I believe and was the reason for seeking their help in promoting Formula One in India through their 200 million plus customers. We are very good partners as we both project the same forward thinking".
As part of its association with Airtel Grand Prix of India, brand Airtel will leverage several exciting entitlements that other prominent global brands associated with Formula One have enjoyed thus far. Formula One enthusiasts can look forward to a host of innovative offerings and initiatives by Airtel, which will be rolled out and announced in weeks to come.