Black Friday Sale hits games at the Apple App Store
Black Friday doesn't have much importance in India but in the West it is of great importance. The very next day of Thanksgiving is known as Black Friday and on this day, almost all games, apps, gadgets, everything go on sale and nobody affords to let this opportunity go waste.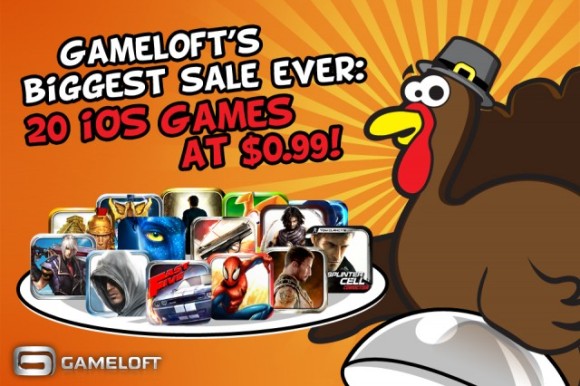 This year, games from EA, Gameloft, Com2uS, Namco Bandai, Sega and other titles like Infinity Blade are up for grabs on the Apple App Store for as less as 99 cents.

We have summed up a list of all the games that are on sale and find out if your favourite title is in the list, if yes, head on straight to the App Store and buy it for your iOS device.
– 9 Innings: Pro Baseball 2011 — $2.99 → $.99
– Homerun Battle 3D — $4.99 → $.99
– Homerun Battle 3D for iPad — $4.99 → $.99
– Inotia 3: Children of Carnia — $4.99 → $.99
– Piggy Adventure — $2.99 → $.99
– Piggy Adventure HD — $2.99 → $.99
– Tower Defense: Lost Earth — $2.99 → $.99
– Tower Defense: Lost Earth HD — $4.99 → $.99
– Puzzle Family — $2.99 → $.99
– Zombie Runaway — $2.99 → $.99
– American Idol: The Game — $1.99 → $0.99
– Anytime Pool — $1.99 → $0.99
– Battleship HD — $4.99 → $0.99
– Bop It! HD — $2.99 → $0.99
– Coconut Dodge HD — $1.99 → $0.99
– FIFA 10 — $2.99 → $0.99
– FIFA 11 — $2.99 → $0.99
– FIFA 11 HD — $9.99 → $4.99
– FIFA 12 — $4.99 → $2.99
– FIFA 12 HD — $9.99 → $6.99
– Fight Night Champion — $4.99 → $0.99
– Dead Space — $6.99 → $0.99
– Dead Space HD — $9.99 → $4.99
– Draw Jump HD — $2.99 → $0.99
– Pictureka HD — $4.99 → $1.99
– Madden NFL 12 — $4.99 → $2.99
– Madden NFL 12 HD — $9.99 → $4.99
– Max and the Magic Marker HD — $2.99 → $0.99
– Mirror's Edge HD — $9.99 → $1.99
– Monopoly HD — $9.99 → $2.99
– Monopoly Here & Now: The World Edition HD — $9.99 → $2.99
– NBA Jam HD — $4.99 → $1.99
– Need for Speed Undercover — $2.99 → $0.99
– Need for Speed Hot Pursuit HD — $9.99 → $4.99
– Reckless Racing HD — $4.99 → $0.99
– Scrabble — $1.99 → $0.99
– Scrabble HD — $9.99 → $2.99
– SimCity Deluxe HD — $6.99 → $1.99
– SHIFT 2 Unleashed — $2.99 → $0.99
– SHIFT 2 Unleashed HD — $4.99 → $1.99
– SNOOD HD — $6.99 → $0.99
– Tiger Woods PGA Tour 12 HD — $4.99 → $0.99
– The Sims 3 — $6.99 → $0.99
– The Sims 3 World Adventures — $2.99 → $0.99
– The Sims 3 Ambitions — $4.99 → $0.99
– The Sims Medieval — $4.99 → $0.99
– TETRIS HD — $7.99 → $2.99
– The Game of Life HD — $6.99 → $2.99
– Trivial Pursuit — $4.99 → $2.99
– Ultimate Mortal Kombat 3 HD — $4.99 → $0.99
– Yahtzee HD — $4.99 → $2.99
– Assassin's Creed: Altair's Chronicles — $4.99 → $.99
– Assassin's Creed: Altair's Chronicles HD — $6.99 → $.99
– BackStab — $6.99 → $.99
– Eternal Legacy — $4.99 → $.99
– Eternal Legacy HD — $4.99 → $.99
– Fast Five the Movie: Official Game — $4.99 → $.99
– Fast Five the Movie: Official Game HD — $4.99 → $.99
– Gameloft Action Pack — $4.99 → $.99
– Gameloft Sports Pack — $4.99 → $.99
– Iron Man 2 — $4.99 → $.99
– Iron Man 2 for iPad — $4.99 → $.99
– James Cameron's Avatar — $4.99 → $.99
– James Cameron's Avatar HD — $4.99 → $.99
– Prince of Persia: Warrior Within — $2.99 → $.99
– Prince of Persia: Warrior Within HD — $4.99 → $.99
– Rayman 2: The Great Escape — $4.99 → $.99
– Real Golf 2011 — $4.99 → $.99
– Real Golf 2011 HD — $4.99 → $.99
– Sacred Odyssey: Rise of Ayden — $6.99 → $.99
– The Settlers — $4.99 → $.99
– The Settlers for iPad — $4.99 → $.99
– Shadow Guardian — $5.99 → $.99
– Shadow Guardian HD — $6.99 → $.99
– Shrek Kart — $4.99 → $.99
– Shrek Kart HD — $4.99 → $.99
– Silent Ops — $6.99 → $.99
– Spider-Man: Total Mayhem — $6.99 → $.99
– Spider-Man: Total Mayhem HD — $6.99 → $.99
– Splinter Cell Conviction — $4.99 → $.99
– Splinter Cell Conviction HD — $4.99 → $.99
– Starfront: Collision — $4.99 → $.99
– Starfront: Collision HD — $6.99 → $.99
– Zombie Infection — $4.99 → $.99
– Zombie Infection HD — $4.99 → $.99
– Ace Combat Xi Skies of Incursion — $4.99 → $0.99
– Buccaneer Blitz — $2.99 → $0.99
– Dig Dug Remix — $2.99 → $0.99
– Fossil Feast — $1.99 → $0.99
– Galaga Remix — $2.99 → $0.99
– House of Glass — Free+ $4.99IAP → $2.99IAP
– Isaac Newton's Gravity — Free+ $4.99IAP → $2.99IAP
– Isaac Newton's Gravity HD — $2.99 → $0.99
– Lost in Time: The Clockwork Tower — Free+ $4.99IAP → $2.99IAP
– Mappy by Namco — $1.99 → $0.99
– Mishap for iPad — $4.99 → $2.99
– PAC-MAN Championship Edition — $4.99 → $0.99
– PAC-CHOMP — $1.99 → $0.99
– PAC-MAN REMIX — $2.99 → $0.99
– PAC'N-JUMP — $1.99 → $0.99
– Pool Pro Online 3, $1.99 → $0.99
– Pool Pro Online 3 for iPad — $1.99 → $0.99
– Puzzle Quest 2 — $4.99 → $2.99
– RALLY-X RUMBLE — $1.99 → $0.99
– Ridge Racer Accelerated — $6.99 → $1.99
– Sky Gamblers: Rise of Glory — $4.99 → $2.99
– SPLATTERHOUSE — $2.99 → $0.99
– Time Crisis Strike — $2.99 → $0.99
– Time Crisis 2nd Strike — $6.99 → $1.99
– Altered Beast — $2.99 → $.99
– Gunstar Heroes — $2.99 → $.99
– Samurai Bloodshow — $4.99 → $.99
– Sonic Spinball — $1.99 → $.99
– Sonic The Hedgehog — $3.99 → $1.99
– Sonic The Hedgehog 2 — $3.99 → $1.99
– Sonic The Hedgehog 4: Episode I — $4.99 → $2.99
– Sonic & Sega All Stars Racing — $2.99 → $1.99
– Super Monkey Ball — $2.99 → $.99
– Super Monkey Ball 2 — $2.99 → $.99
– Super Monkey Ball 2 Sakura Edition — $4.99 → $.99
– Streets of Rage — $2.99 → $.99
– Streets of Rage 2 — $2.99 → $.99
– Streets of Rage 3 — $2.99 → $.99
– Virtua Fighter 2 — $1.99 → $.99
– Infinity Blade — $6.99 → $2.99
– Pocket Academy — $3.99 → $1.99
– Hot Springs Story — $3.99 → $1.99
– Gesundheit! — $1.99 → $0.99
– Gesundheit! HD — $2.99 → $1.99
– Pro Evolution Soccer 2011 — $2.99 → $0.99