BlackBerry 10 L-Series caught on camera, shows off homescreen
Okay so we are back with another leak for the day but wait, this time it is not another Nokia Lumia 920 or Lumia 820 related but what we have for you is the BlackBerry 10 running BlackBerry 'L-Series'

smartphone

.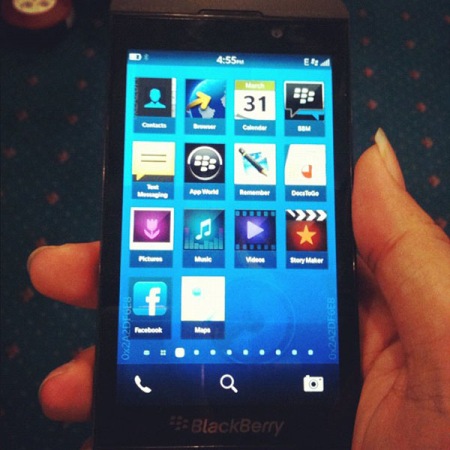 The

smartphone

which you see above could go on to be the first BlackBerry 10 running device which we expect Research In Motion (RIM) to launch early next year.
The device in question has also been spotted earlier in a leaked slide titled 'London' and also matches the same design which was pictured

then

. According to another recent leak, the device will be powered by an 1800

mAh

LS1 battery.

On the home screen, we can see loads of apps which are loaded onto the device and a few important ones include BlackBerry Messenger (BBM), Facebook, App World, DocsToGo and an interesting one called StoryMaker.

The BlackBerry 'London' is expected to launch alongside the N-Series BlackBerry 10 device which is to arrive with a full QWERTY physical keyboard as early as in the first week of January 2013.

Which one would you prefer, Full Touch L-Series or QWERTY N-Series? Do let us know in the comments below.