The recently launched Blackberry 10 OS has one unique feature, which is that the OS supports Android apps like on the BlackBerry Playbook using the "Runtime for Android apps". But there is just one drawback which is that it is only made to run up to Android 2.3 Gingerbread.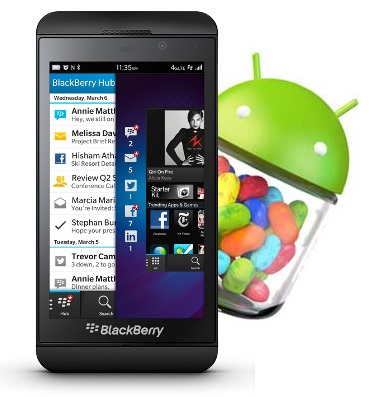 But Blackberry now has some more good news for app developers and also the end users as the company plans to update the Runtime.
Latest reports from Crackberry now claim that it will soon update the Android runtime environment to Android 4.1 Jelly Bean thus allowing users to use up to Android 4.1 apps. This will be more beneficial to the developers to port their latest Android apps which run on latest Android versions onto the Blackberry 10 platform.
Blackberry has been repeatedly convincing developers to port their Android apps to the Blackberry platform. In their recently organised port-a-thons, developers were paid to port their apps. This move was to increase the number of useful apps in the Blackberry market.
While the exact date when the update will be released is not yet decided, we can expect the updates to start rolling out very soon.