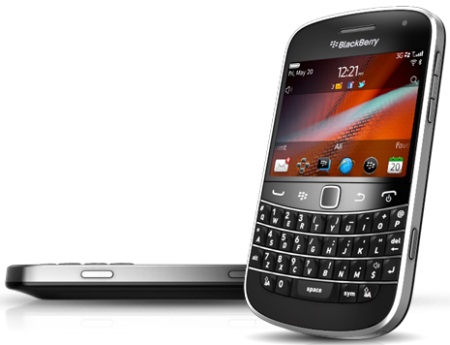 Reasearch in Motion has launched the BlackBerry Bold 9900 in India today which will be the first of the newest devices that will run on the BlackBerry's latest OS 7. The handset is also a first touch-and-type offering from the company with a nice sleek and lightweight design.
The new Bold 4, as it is being called, boasts a 2.8 inch capacitive touchscreen which is a 24bit display ansd ahs a 640×480 resolution. It has a 1.2GHz processor with 768MB of RAM and 8GB of internal memory and it is expandable upto 32GB. The full QWERTY-keyboard has an optical track-pad, a feature usually seen on a BlackBerry device. The camera is 5MP unit with capabilities of recording videos at 720p. Other features of the device include a 3.5mm jack, Wi-Fi, Bluetooth, NFC, Augemented Reality, GPS and 1230mAH battery.
Boasting the new OS the handset will have the latest BlackBerry Messenger 6, which will be integrated throughout the handset and can be accessed from anywhere, even inside an app without having to switch to the messenger itself. New concepts like, NFC will be integrated into the battery cover of the device and Augmented Reality with the Wikitude browser, are some of the new attractions for the smartphone.
Ms. Frenny Bawa, Managing Director, India, RIM said, "We are thrilled to bring this outstanding new smartphone to the Indian market. We believe that customers will be extremely impressed with the exciting new features and exceptional performance delivered by the BlackBerry Bold 9900 and BalckBerry OS 7."
The Bold 9900 is priced at Rs. 32,490