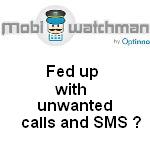 Do you get annoyed by receving SPAM (Unwanted) calls and SMSes. Well all normal people do. To block all such SPAM (Unwanted) Calls and SMSes a Pune based mobile application development firm Optinno Mobitech Pvt. Ltd. has come up with a software called 'Mobiwatchman'. Mobiwatchman allows all you to block unwanted calls and SMS with various filter levels within a single interface.Mobiwatchman is designed for all GSM handsets that support Symbian operating system. To know if your phone is compatible with Mobiwatch man, click here.

In a statement, Founder and CEO, Optinno Mobitech Pvt. Ltd.Mr Sagar Bedmutha said "Mobiwatchman is developed considering the Indian user and ways & extent of unsolicited mass marketing in India. Mobiwatchman effectively empowers you and gives you full control on what calls and SMS you receive. It is India's first native SMS and call blocking application. With the 'National Do Not Call' (NDNC) registry, Telecom Regulatory Authority of India (TRAI) has taken sincere efforts to reduce the amount of mobile spam. However, mobile spammers always find ways to bypass the restrictions of NDNC registry. That is the reason why you receive scores of unsolicited marketing calls and SMS even after registering with NDNC registry. This is where Mobiwatchman comes into play. We are certain that now the mobile users need not get annoyed and disturbed by spam. We take pride in presenting this 'first-of-its-kind', full-proof, innovative mobile application to our valued customers today."

Features of Mobiwatchman

Block Call Block SMS

It takes less than 5 minutes to set the app running.

Single interface to block calls as well as SMS.

'One-Click-Block' to block in single click from Home Screen.

Unique Intuitive Algorithm to detect and block automatically cunning spam SMS.

Fully customizable. Decide your own level of privacy.

Integration with phonebook, call logs, SMS inbox.

Detailed log of all blocked calls and blocked SMS.

Blocked SMS storage in 'Bin' folder.

Application 'On' indicator icon on Home Screen.

Selective call block based on unknown mobile and/ or landline or a specific number.

Selective SMS block based on content, bulk spam SMS, sender's title or a specific number.

Easy unblock options.

'Application auto start' mode to start Mobiwatchman automatically when the phone starts.
Mobiwatchman is available at Rs. 199. Before buying you case also try it as a free trial version is available. To get more information about MobiWatchman or to buy Mobiwatchman visit http://mobiwatchman.com