Customizable phones are  pretty in. After the Motorola Project Ara and the ZTE Eco-Mobius, Bluebird, a relatively unknown company has unveiled Bluebird BM180 that gives you the ultimate choice – one between operating systems. Bluebird doesn't double boot, overweighing your RAM, but rather offers you choice between Windows and Android versions of the same device.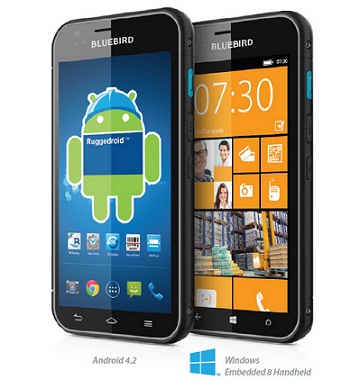 The Bluebird BM 180 can be ordered with either operating system. The other specs include choice between 1 GB or 2 GB RAM, 8 or 16 GB internal memory and 720p screen or 1080p screen. Other specs include Wi-Fi, Bluetooth 4.0, a barcode scanner, a crad reader and HSPA+ connectivity. Along with that, there should be an 8-megapixel camera . Also, there is a Cortex A15 processor under the hood. And obviously, you have a choice between Android 4.2 and Windows Phone 8.
The phone, targeted at business consumers has currently been released in Korea and might later be released globally.