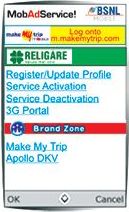 Bharat Sanchar Nigam Ltd (BSNL) launches India's first integrated Mobile Advertising Service that brings advertisements of various products & services of bsnl subscribers choice to his /her mobile and chance to earn FREE TALK TIME.
By simply registering for a service which will send advertisement to the registered bsnl mobile subscribers which in turn help users to earn talktime .The Mobile advertisement services is currently launched in West zone i.e. Maharashtra, Gujarat,
Madhya Pradesh and Chhatishgarh, to be followed soon in other BSNL zones of India.
How to Register for BSNL Mobile Ad Services-:
BSNL subscriber can register for Mob Ad services on IVR by calling the toll free number 51235 or by logging onto http://AdSeKamao.bsnl.in from their mobile phone.The registration allows subscribers to create their profile and preferences and helps subscribers to choose from various Ad delivery channels of BSNL. Ads will be served to subscribers depending on their preference and convenience. At the time of registration their consent will be taken to serve subscribers 2 SMS or 2 MMS or 2 WAP Push Ads and 2 Voice-out-dial Ads per day. Subscribers can also request for additional Ad services delivered through other channels.
BSNL may also give subscribers some FREE TALK TIME for registration and receiving Ads.
For details log on to http://AdSeKamao.bsnl.in
There is a 4-step registration process:-:
1. Personal Details: This opens the registration page where subscribers enter the personal details like their Gender, Age Range, Marital Status and their Employment Status etc.
2. Area of Interest: Subscribers can select their area of interest and the time slot in which subscribers want BSNL to send Ads.
3. Service Selected: Subscribers can select any or all services
4. Consent to terms & conditions: Subscribers will have to agree to terms & conditions for this service, available on WAP site
Registration/De-registration on Voice-:Subscribers have to dial short code 51235 & they will get the welcome message. Subscribers will also be given an option to select the language. After that subscribers will have two options; they can subscribe for Mob Ad Services by pressing 1 or they can unsubscribe from this service by pressing 2. CALL to IVR short code 51235 is absolutely FREE.
Registration/De-registration on WAP-:-:Registration/De-registration can be done at 'AdSeKamao.bsnl.in where browsing is FREE. On the WAP site http://AdSeKamao.bsnl.in select the link Register/De-register.
Mobile Ad Channels
At present Mobile advertisements will be served through Missed Call Notification, Push SMS, Voice calls, Idle Screen & WAP banners. Later on more channels like MMS & PRBT etc. will be added.
Idle Screen
If the phone is idle for sometime and subscribers are on the phone's main screen, they can view various advertisements. These Ads keep on scrolling until the phone is put to use. To see the details of the scrolling Ads, subscribers have to press the PEN key of their phone. When subscribers press any key of the handset the advertisement will seize to display. To use this service registered subscribers need to download the Idle Screen application by logging on to http://AdSeKamao.bsnl.in. Upto 10 ads will be sent through data connectivity to subscriber's phone in a day. The Ads may be refreshed on daily basis. Subscribers will not be charged for data down loads for these Ads. Nokia Symbian handsets support Idle Screen Application. Detailed list of handsets supporting Idle Screen is available on AdSeKamao WAP site. Downloading this application is absolutely FREE.
BSNL Wap Portal
Banner is the medium of Advertising on WAP.
Subscribers can get the banner Ads on the home page of WAP site http://AdSeKamao.bsnl.in. GPRS connectivity is required for accessing the WAP site.
There are two types of Banners:
Clickable and Non-clickable banners.
Clickable banners are those which will take the user to another WAP page where further details of the advertisement is displayed.
Non-clickable or static banners are those which display the whole advertising information in the banner itself.