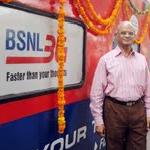 Bharat Sanchar Nigam Ltd (BSNL) partnered with Indian Railways for 3 months to publicize and strenghten brand image of BSNL 3G. Under this agreement as much as 25,000 square feet of BSNL advertisement creative would be wrapped onto Rajdhani Express with a special quality vinyl approved by RDSO. BSNL will take care for up-gradation, cleaning and maintenance of Rajdhani trains. BSNL has done a full train external vinyl wrap for the first time in India including internal media for captive visibility.

Routes being covered by this Rajdhani train are Delhi-Chennai, Delhi-Bangalore & Delhi-Trivandrum. Another Rajdhani Train covering Delhi-Sealdah is also scheduled for launch shortly.

There are approx 350 Panels, 200 Table Tops and 400 Brochure Holders inside one train, along with audio jingles, announcements, contest and activation by in-train promoters which would create a great impact and engaging communication for the brand BSNL and its services. The Corporate Social Responsibility (CSR) imagery of BSNL would also gain strength because of the upgraded services experienced by the travelers, including cleaning and maintenance which are viewed to be bought by the BSNL 3G brand.