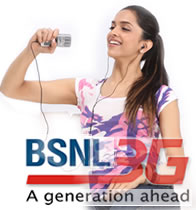 BSNL launch their 3G services in 12 cities of India with commercial 3G plan for every one from today. The BSNL's Commercial 3G service are available now in Amabala, Agara, Dehardun, Jammu, Jaipur,Jalandhar, Lacknow, Shimla, Patna, Ranchi, Haldia & Durgapur.
BSNL CMD Kuldeep Goyal spoke about the launch of 3G services on their network: "Besides upgrading mobile data speeds to 2 mbps from the present 144 kbps, we will also offer video screening of calls, video on demand, mobile surveillance, Live TV, movie downloads etc on our 3G platform." They are collaborating with Nokia, Sony and Samsung for offering 3G capable mobile handsets along with packages in the market. The cheapest of the device would cost around Rs. 7000. BSNL said that the fixed monthly charges would range of "BSNL 3G TARIFF PLAN" from Rs.350 for prepaid to Rs 500 for postpaid.
To Get the BSNL 3G Mobile Srevice-:
1.SMS -: "DEMAND 3G" to 51503
2.CALL-: 1503 From BSNL Phone.
3.Online Registration-: http://portal.bsnl.in/bsnlccp/New3GuserReg.aspx