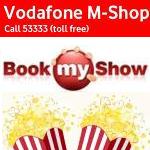 Vodafone customers can now purchase movie tickets through their mobiles via Vodafone's M-Shop. Customers can access M-shop IVR by dialing 53333 (toll free) or by sending SMS MSHOP to 53333 (no charge). This service is brought by Vodafone and BookMyShow, one of India's largest online entertainment ticketing & Information services. As an introductory offer there will be no convenience fee till February 28, 2010. (Once this offer is over a convinience charge of Rs. 5 per ticket to Rs. 25 per ticket will be applicable)

Customers will be guided through a step by step process where they can book tickets for English/Hindi/ Regional movies of their choice. Payment for tickets can be made with a credit card. Customers get an SMS acknowledgment immediately on confirmation of payment which makes it very safe and secure.
Step 1: Call 53333 (toll free)
Step 2: Select '3' for movie ticketing
Step 3: Press '1' and confirm your location.
Step 4: Choose the movie, the multiplex, ticket class and number of tickets
Step 5: Once done, pay the amount read out by the IVR and select a payment option (credit card)
Step 6: Enter your credit card details
Step 7: After the transaction has been completed, you'll hear a confirmation message, while you are on the call.

You will also receive an SMS confirming your payment and another SMS with a booking reference number, which you will need to show to collect your tickets from the counter. (In case you delete the confirmation SMS by mistake or otherwise then to receive it again you will have to call Vodafone Customer Care on 111. Alternatively, you can call BMS on 39895050 and give your mobile number and the SMS confirmation can be resent to him. )

There are certain risk management rules that are applied by Book My Show, they are as follows
Max 9 tickets can be purchased in single transaction.
Max 3 transactions allowed /day/ card
Max transaction amount of Rs 4000 allowed/day/card
Max 10 transactions allowed /week/ card
Max transaction value of Rs 10000 allowed/week/card

This offer is valid in certain states only. Please check the list here (http://in.bookmyshow.com/regions/) to know if you can avail this service.