With iPad 3 expected to launch on the March 7, more rumours are doing the rounds about the specs and features of the device. Amongst those was the one that the iPad 3 will be getting Apple's favourite Retina Display. The iPad 1 and iPad 2 didn't feature the Retina Display and had a basic display resolution of about 1024 x 768 pixels.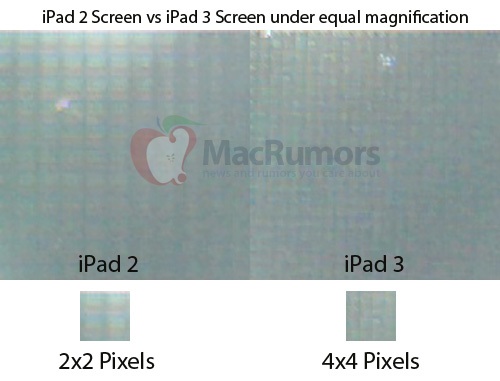 But now MacRumours has allegedly got their hands over, what is expected to be the display screen of the iPad 3. The size of the screen is same at 9.7 inch diagonally as that of the iPad 1and iPad 2.

But when we dig in deeper, then we find out that the display is having double the pixel than the older displays. As MacRumours didn't have any source to power up the display, they took the help of a microscope to explore the display part with that of an iPad 2 display.
And what you see above is the comparison of both the displays. As you can see, the picture on the left hand side has fewer squares than the one on the left side. When we crop it down and then we can see the difference more clearly. The square on the left has a cluster of only 4 pixels as compared to the 16 on the right square, thus proving the iPad 3 display will be a Retina Display and have a pixel density of 2048×1536 pixels.
So with this rumour proving right, the next in line are that of an A 6 processor, better camera and LTE radio on the iPad 3 which are left to be settled. Will it happen before March 7 or at the official announcement? Time will tell.