Coolpad's flagship smartphone, Coolpad Max has been launched in India featuring a 4 GB RAM, an octa-core processor from Qualcomm Snapdragon 617 SoC and a large 64 GB storage. With these upper midrange specifications, what do you think, how long the Coolpad Max survives with its 2800 mAh battery. We are using the phone for a few days, let's find it out in our Coolpad Max battery test.
Coolpad Max Battery Test Results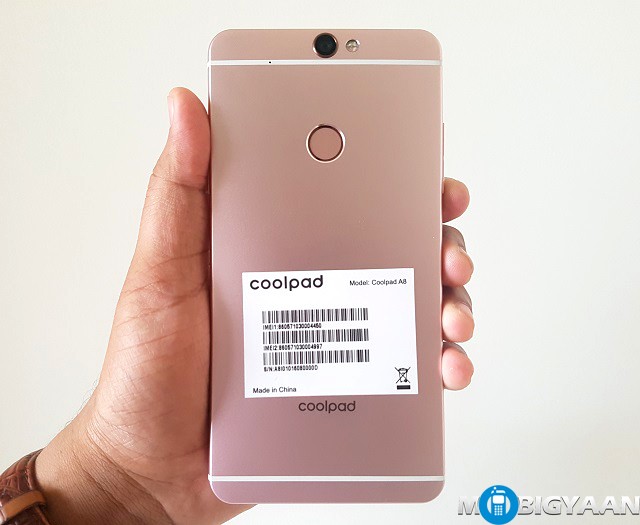 The Coolpad Max sports a 2800 mAh battery which sounds decent. The battery isn't removable due to its metallic unibody design. If you remember, the Coolpad Note 3 is having a bigger battery of 3000 mAh capacity but being a flagship, it has slightly a lower capacity. Coolpad Max not only offers a latest Qualcomm Snapdragon 617 SoC but a large 4 GB RAM and a 64 GB storage.
In our first usage, the Coolpad Max lasted almost a day without any hiccups with 50% of battery still left. While we have used it below moderate usage, you can expect to run the smartphone around a day and a half. Our usage includes watching YouTube videos for about 30 minutes, online and offline music streaming for around 1.5 hours, played games like Angry Birds Rio and Traffic Rider for an hour, Facebook and Instagram surfing for some time, watched offline videos and a few shots of the camera.
We got 2 hours and 6 minutes of screen on time with just 10% of battery usage. The cell standby time took 2% of the battery in 22 hours and 58 minutes. We have shared the battery chart history of our usage to get an idea. The hardware inside the Coolpad Max is a Qualcomm Snapdragon 617 having 8 cores where 4 cores are clocked at 1.5 GHz for high-performance and the other 4 cores are clocked at 1.2 GHz for power efficiency. All are Cortex-A53 cores.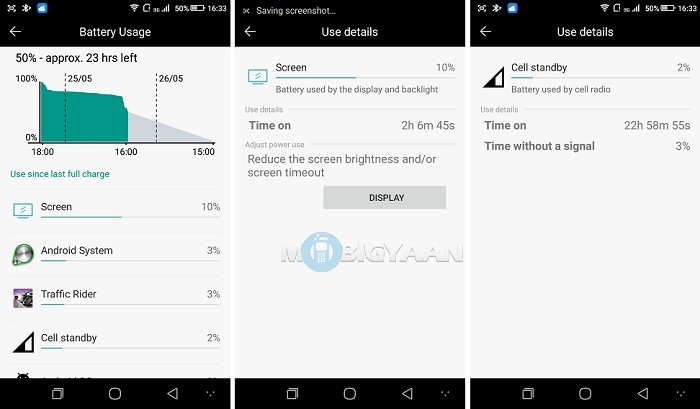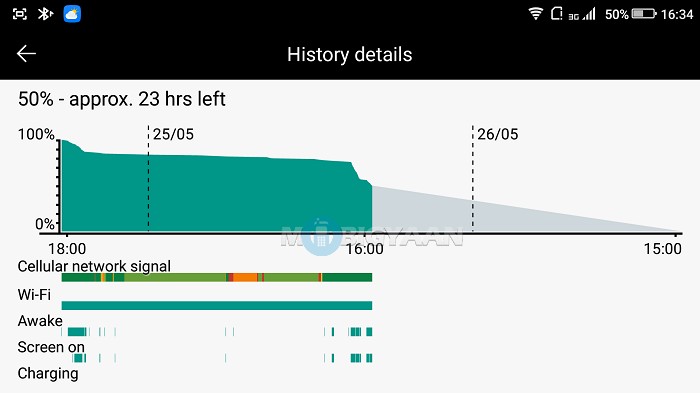 Coolpad Max does provide a power saving option in the Settings so you can get more battery life with a little cost of performance loss. A few apps were used in our Coolpad Max battery test such as apps like TuneIn Radio, Instagram, Facebook, WhatsApp, Amazon Shopping and games like Angry Birds Rio, Asphalt 8 – Airborne, 8 Ball Pool, Shadow Fight 2, Asphalt Nitro to check out the battery performance. We have performed a few tasks to see how well the battery performs. Check out the Coolpad Max battery test table below.
Coolpad Max Battery Test Table
[table id=21 responsive=flip /]