With the increasing demand for affordable smartphones, manufacturer of low cost Aakash tablets has announced three new smartphones within an affordable price range.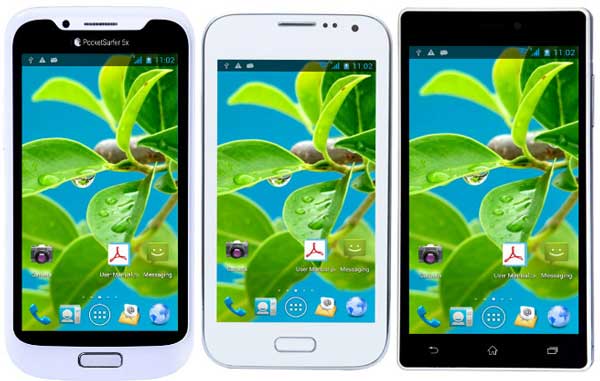 Datawind has launched three new entry level smartphones – the Datawind PocketSurfer 5x, the Datawind PocketSurfer 5 and the Datawind PocketSurfer 3G5. All the three devices have 5 inch display with dual SIM capabilities. The PocketSurfer 5x is powered by a 1 GHz Cortex A8 processor while the PocketSurfer 5 is powered by a 1 GHz Cortex A9 processor and the PocketSurfer 3G5 has a 1.2 GHz dual core Cortex A7 processor.
While the PocketSurfer 5x and the PocketSurfer 5 have just 2G connectivity, the PocketSurfer 3G5 has 3G support. However all the devices have a front facing camera. The Datawind PocketSurfer 5x is priced at just Rs. 3499 and the Datawind PocketSurfer 5 is priced at Rs. 4999 whereas the Datawind PocketSurfer 3G5 is priced at Rs. 6499.
Speaking about the new Datawind PocketSurfer series, Suneet Singh Tuli, CEO of DATAWIND said, "On the 10th Anniversary of DataWind's PocketSurfer – the fastest internet device operating through a GSM SIM beating all other internet devices at that time in speed, we're very excited to introduce these amazing new devices at unbelievably low prices. Intended to again create benchmarks in the smart phone category, DataWind's new products break the affordability barriers of smartphones and bandwidth constraints of cellular networks to deliver calling facility and internet access to anybody who can afford a simple mobile phone.  Currently simple phones in the market cost as much as the smart phone on offer by DataWind. Our primary focus is to bridge the digital divide and deliver an affordable means of accessing the internet.  We want to be form-factor agnostic.  Globally the massive shift from feature phones to smartphones is being driven by the appetite to get on the internet.  We want to be the enabler."
Specs of the Datawind PocketSurfer 5x:
5 inch display
960 x 540 pixels resolution
1 GHz processor
0.3 MP front facing camera
Linux OS
Specs of the Datawind PocketSurfer 5:
5 inch display
960 x 540 pixels resolution
1 GHz processor
2 MP rear facing camera
0.3 MP front facing camera
Google Android v4.0 Ice Cream Sandwich
Specs of the Datawind PocketSurfer 3G5:
5 inch display
960 x 540 pixels resolution
1.2 GHz dual core processor
5 MP rear facing camera
0.3 MP front facing camera
Google Android v4.2 Jelly Bean