With the exit of Google Reader, a lot of pressure has mounted for the search of the next Google Reader. Digg was one such replacement however the Android app of the reader was not yet launched and the company has quoted many reader who asked "Where's my freaking Android app, you lazy idiots!?"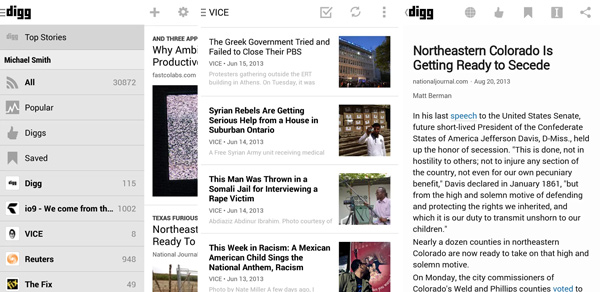 The new Digg app for Android is complete with the Digg Reader functionality with a simple yet fluid design. The app has provides the Top Stories from Digg, which can be moved to Instapaper, Pocket or other sharing apps. The Digg app is directly connected to Facebook and stories can be directly shared to your friends. There is support for Twitter, Google Plus and email as well.
The Digg app for Android can be used to find your favourite online publishers, writers, and bloggers and you can follow them to receive timely updates about their work. The app can be used to organize RSS feeds and other sources using descriptive folders. The Digg Reader for Android is available for free on the Google Play Store.