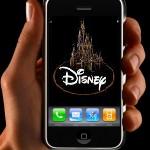 Disney.com has launched an app for iPhone and iPod touch on the App Store. The Disney App features an array of Disney content including areas dedicated to Characters, Music, Video and Games. Content in the app will be updated regularly, providing kids and families with instant access to the latest Disney news and entertainment.

The new Disney App will also offer innovative features including "Click2Life" which allows iPhone users to take pictures of images from the online version of Disney.com with their device that will then come to life within the app and turn into an animated image.Additionally, the Disney App will automatically discover other Disney apps and games available through the App Store, organizing all Disney-branded content within one destination on each device so users can easily access their favorite games and entertainment content.

Key content features within the new Disney App include:

Disney at your fingertips – instant access to the latest Disney news and entertainment.

Characters – interact with hundreds of Disney's most popular characters through customizable photo frames and audio greetings that can be customized by users.

Music – listen to Radio Disney live, play "Name that Song," watch music videos and purchase the latest Disney music from the iTunes Store.

Videos – watch new featured and original videos each week including Disney.com's "Backstage Pass" and "Spotlight" segments.

Games and My Disney Apps – download and manage free and paid Disney games and other apps.

The Disney.com App is available for free from the App Store on iPhone and iPod touch or at iTunes.com/WaltDisney along with an extensive line-up of other free and paid Disney Apps.