Dispose your old mobile phones and earn cash with PriceShred
What do you do with your old and outdated mobile phones? Now that's a tough question, because you just can't throw them away in the garbage now can you. You usually end up giving your old handsets to a family member, or it just lies somewhere inside your cupboard.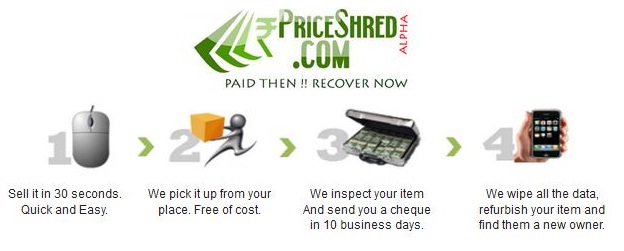 How about selling it for some quick money?

PriceShred.com is an online re-commerce service that helps you sell and get value from your pre-owned mobile phones. You can easily describe your item, evaluate the value and grab your money.
First, you specify your handset, evaluate the cost of your handset, get an online receipt and enter your pickup/address details. The company then sends a packaging kit in which you can pack up your handset and its accessories (if any) and get it picked up at your convenience. The handset is then checked by tech experts at PriceShred and if the handset passes the evaluation, you get a cheque in the next 10 business days. In case the handset fails the evaluation tests, you will be sent a new offer and after confirmation you can either choose the new offer or get your handset back without any extra charge. The company later cleans all the data on your handset, refurbishes it and sells it to another customer.
The best part about this service is that you don't have to hunt for buyers as you can just sell your old handsets to PriceShred and then it is the company's headache to look for buyers. It's a pretty neat service as there are billions of handsets that are dumped as waste every year. More services and initiatives should be brought up which encourage re-using and recycling of mobile phones and alike.

So got an old handset to sell? Click here to start selling.