After initially launching the Evernote Food 2.0 on iOS, the eating companion is now launched on the Android platform also to assist all the Android food lovers.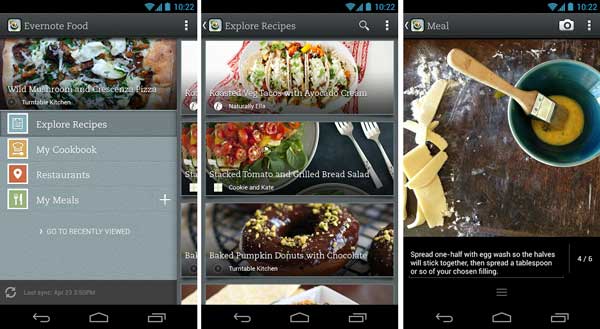 Evernote Food 2.0 will be a wholesome companion for Android users along their culinary journey. It lets users capture and get inspired by their milestones. The app has specialised sections which help to explore new recipes, maintain a cookbook of recipes, list out restaurants and share your meals.
The 'Explore Recipes' section lets users to browse and search by ingredients through thousands of recipes. The search scours through a broad array of the best food blogs and sites. The relevant recipes can be clipped to the 'My Cookbook' section by tapping on the Elephant icon.
The 'My Cookbook' feature acts as a digital recipe collection. It compiles every food recipes that the users have saved in Evernote and automatically brings them to their digital cookbook. The 'Restaurants' section makes a list of all restaurants the users want to try. The app locates restaurants nearby the user's current location or the specified location.
Finally 'My Meals' section allows users to create and share photo essays documenting all their food adventures. This can be later shared across social networks like Facebook, Twitter, Google+, and more, thus letting you share the food with your friends.
To download the Evernote Food 2.0 visit the Google Play Store.