First up, Apple has sprung up a surprise that none of us could have even anticipated. For the next version of the iPad, they have reverted back to the old name. As if planning a vendetta upon Proview for maligning their image, Apple has opted for this name instead of an iPad 3/iPad 2S/ iPad HD. (Glad we got that part over with)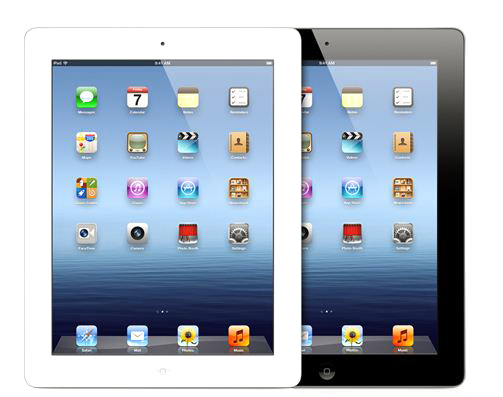 Over to features and all the stuff you will love to know.

The new iPad is a step ahead of the previous iPad. It has so many new features; we do not know where to start. Lets go with the Display.
Apple has opted for, as we have been repeatedly saying…a RETINA DISPLAY! Yes, here is something a 9.7-inch backlit multi-touch display with a resolution unprecedented for any tablet – 2048 x1536p is here for real. The new iPad offers a 3.1 million pixels display with a display density of 264 pixels per inch. Let me tell you, that is like what blu-ray movies look like. Only every thing you will do on an iPad will be, the way Apple has put it, resolutionary. So, here is the next thing, what will you do when your fingers leave smudges on this ultra-pixilated, ultra-sensitive touchscreen. Well, it's finger-prints resistant!
What about the form factor? Well, this is a bit surprising. The new iPad comes with 241.2mm x 185.7mm x 9.4mm dimensions and weighs around 652 g. Compared to the last iPad it is about 0.6 mm thicker and 45 grams heavier. We don't think that will make much of a difference though.
So what's under the hood? The new iPad boasts of an A5X dual-core processor. Why didn't Apple opt for a quad-core processor? They say this one is 4 times as fast as a Tegra 3. The real reason, though we believe is that they will debut it in the iPhone 5. There is a quad-core GPU though, to match up to the retina display.
How about memory and versions? Sadly there is no 128 GB iPad. Apple has stuck to iPad 2's 16 GB, 32 GB and 64 GB versions.
How about connectivity? Well there is a Wi-Fi and a Wi-Fi + 4G version out and Bluetooth 4.0 has surprisingly made its mark here. LTE is there too. Expect a lot of fireworks from the connectivity of this iPad.
The next thing you will look forward to is a camera. Well, here's a delight. The new iPad will have a 5-megapixel iSight camera on board. Goodbye to the sucky camera of the last iPads. This one comes with auto-focus, tap to focus and 1080p Video playback at 30 frames per second. There is video stabilization too. Add to that, there is a VGA cam for video chatting, which we suppose could have been easily bumped to 1.3-megapixels, but that's hardly anything to complain about.
Apple has bumped up the battery with a 42.5 watts/hr built-in li-ion one. They promise up to 10 hours of regular use which remains to be tested. One thing that you might be worried about on a retina-display iPad will be apps, right. Don't. because the new iPas already supports 200,000 apps including games, newsstand, social networking, travel , news and many more. iPhoto has been improved for iPad and has a whole new UI.
How about more features? Well, there is an in-built speaker and mic for starters. In th Wi-Fi + 4G version, they have opted for quite sadly, a MicroSIM. Then there is improved Airplay. There is multi-language support too, though we didn't see any support our Indian languages BOO!
The iPad has also become environment friendly this time and everything ranging from its display to battery are void of chemicals such as Mercury and Arsenic.
Now that we have said everything that was important. How about the price. That is a big delight. The price will remain the same as iPad 2. $499 for 16GB, 32GB is $599 and 64GB for $699. 4G LTE is $629, $729 and $829.
Availability? Well its available in many places this time by 16th March at the latest.