Fake Nokia N9 gives you a choice between 7 Operating Systems
How about running a different OS everyday of the week on the same device? Well that is possible on a fake Nokia N9 handset that has surfaced in Shanzai, China which has 7 operating systems for you to choose from. From MeeGo to iOS 5, HTC Sense, Windows Phone 7, BlackBerry, Symbian Anna and Samsung's TouchWiz onboard.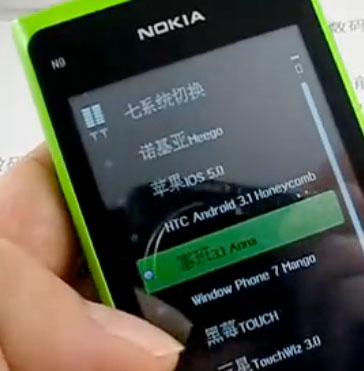 Not only does it have dual-SIM support it sports a 3.8 inch WVQGA 240 x 400 resistive touch screen and a 1.3MP rear and front-facing camera. If that was not all, the fake Nokia N9 also has the Talking Tom app from the iOS onboard.

What does this go on to prove? Well it may be that users in China are not basically interested into the OS part of any smartphone but all they want is a device with some games, apps and it should 'LOOK' like a smartphone.
So would you fancy smrtphone with 7 OS's? Do let us know in the comments below.