As we near the launch of the much awaited Windows Phone 8 OS, a new leak comparing the features arriving with both, the Windows 7.8 and Windows Phone 8 has appeared over a Windows Phone centric Russian site.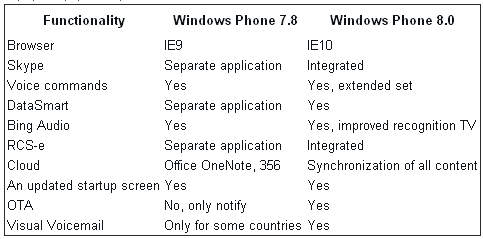 As you can see a number of features that we are not aware of, as there was no official announcement of them are going to arrive with Windows Phone 7.8 and Windows Phone 8.

The source, WP7Forum is reliable for such a leak and so all the features that we see above are bound to arrive. Going by the leak, Windows Phone 7.8 users would have to stay happy with IE9 whereas IE10 would arrive on the WP8.
 
Skype would be available as a separate app for the WP 7.8 OS whereas it would be integrated with the WP8 which we were expecting

from

a long time. Next up is DataSmart, an app which allows users to monitor data usage, and RCS-e allows carriers to hook in data services. These will be available

on

WP 7.8 as apps, whereas they would be integrated into the WP8 OS.
 
More over

there seems to be no changes to Voice Command, Bing Audio, and cloud services and all of these seem to be staying the same in WP7.8. But when it comes to WP8 users, they would be getting more improved versions of these. Bing Audio in WP8 would be getting 'improved TV recognition', which we do not have any idea about how that would work.
 
So for now these are the features that we expect to arrive in both WP 7.8 and WP 8 in the next few months.