The Motorola Moto G5 Plus is going to be launched today in India and will be available for purchase exclusively on Flipkart. While the device hasn't been officially announced yet in the country, Flipkart has introduced a BuyBack Guarantee for the Moto G5 Plus ahead of launch.

This BuyBack Guarantee is available exclusively for the Moto G5 Plus on Flipkart. It's a guarantee by Flipkart that they will buy back the Moto G5 Plus from you at an assured price when you buy another smartphone from Flipkart which is priced higher than the Moto G5 Plus.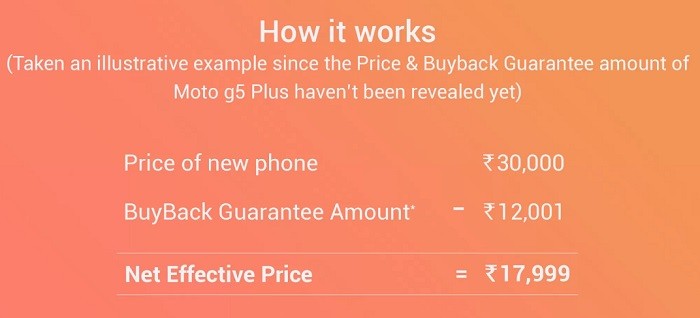 With this, if you a buy a smartphone from Flipkart by exchanging your Moto G5 Plus, you will get an assured price for your G5 Plus. However, the caveat is that the purchase should be made within 6 to 8 months of buying the Moto G5 Plus from Flipkart. Also, the new smartphone should be priced higher than the Moto G5 Plus. The Moto G5 Plus isn't launched yet in India so there's no information on the pricing available right now.
"As India's most preferred online shopping destination for smartphones, we have been innovating on creating the right connects between brands and buyers, and making high-quality products affordable and accessible to our customers. Our deep understanding of the local market and customer dynamics, along with industry-first innovations like easy product exchange and No-cost EMI, have helped us to expand the smartphone category. The BuyBack Guarantee program is the yet another effort to bring better choices and a richer experience to our customers and keep the excitement alive amongst them." said Ayyappan R, Director – Mobiles, Flipkart.
Well, this scheme doesn't seem to be much helpful to the customers as Indian customers are very unlikely to upgrade their smartphone within 6 to 8 months of buying them, hence, this is nothing more than just a marketing gimmick.
Speaking of the Moto G5 Plus, we will know more about its pricing and availability once it's launched in India in some time.