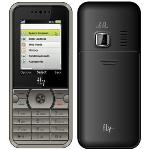 Fly Mobile has launched its 800MHz CDMA mobile phone model, C-250 in the Indian market. Fly C-250 is priced at Rs. 4490 ($96 Approx).

The C-250 has QC1110 chipset. Fly Mobile is the first mobile handset brand in the country to introduce this advanced chipset which gives C250 buyers an talk time of 8 hours owing to better power management. It is a BREW (Binary Runtime Environment for Wireless) capable phone which essentially means that it supports the application development platform created by Qualcomm that can download and run small programs for playing games, sending messages, sharing photos, etc.

It is a candy bar phone with 2" QVGA screen that offers 65K colours with display resolution of 176×200 pixels. It also has a 2 mega pixel camera with image capture resolution of 1600×1200 pixels, digital zoom and self-timer.
The phone can be charged with the help of USB cable and the USB connectivity also allows the users to use it as a flash drive for data storage as and when required. The expandable memory with the help of mini-SD card is 4GB. It also has Bluetooth connectivity for which allows users to share files, put on the Bluetooth headset for conversation and enjoy stereophonic music sound while on the move. The integrated modem enables users to connect the phone to a computer and access Internet.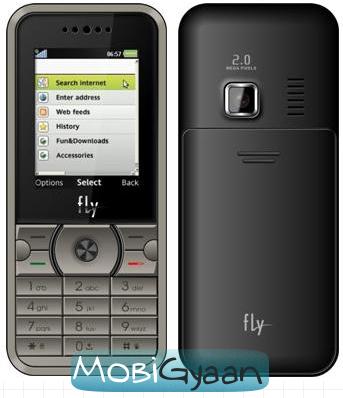 In terms of messaging, C-250 supports SMS with predictive / intuitive editor, long message and multi-recipient features. When it comes to sound settings, the phone supports polyphonic and true ring tones in MP3, MIDI, AMR, AAC and AAC+ format.

Fly Mobile C-250 supports a media player which is capable of audio and video recording as well as playback. In fact, the one touch access to audio player (on press of the down key) and the side keys for volume control make C250 an ideal buy for the music aficionados. It has a full track MP3 player with play, pause, stop, back, mute etc. functions. Using the media player functionality, users can edit pictures as well. The C250 allows users to indulge in conference call i.e. connect and speak to multiple people simultaneously. The standby battery life is 7 days while the talk time is 8 hours, long enough for users to enjoy uninterrupted usage. What's more, it has an additional capability which enables users to blacklist unwanted numbers.

C-250 is loaded with utilities like FM Radio, calendar, alarms, world clock, voice recorder, speed dial, network information & time zone, currency converter etc.