Free BlackBerry Apps for Football World Cup 2010
Hey! BlackBerry Owners – are you missing the Football World cup action? Catch all the latest Football World Cup 2010 action on your BlackBerry smartphone. I am listing a few free apps that will not let you feel left out.
South Africa on BlackBerry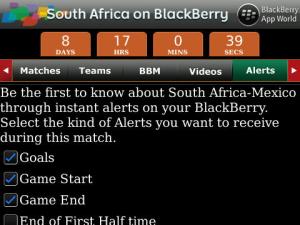 It provides you real-time access to scores, breaking news and event coverage. It can send you Push notifications of alerts that you can set for each match – Goals, Half/Full score, dismissals etc. It allows you to share all the excitement of the World Cup along with your friends using BlackBerry Messenger (BBM). You can also share alert/news on Facebook, Twitter and Email. It supports Blackberry 9000, 9700, 9100, 8520, 8900, 9500, 9530 OS: 4.6+.
To download it click here
WC2010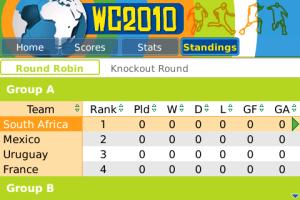 With this app you can view schedules and results round by round throughout the tournament. After the group phase, it will show upcoming games through a bracket view that allows you to see future match-ups form as they happen.

To download it click here
ScoreMobile FC App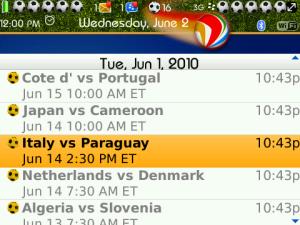 ScoreMobile World Football Theme enables streaming news from the FIFA World Cup and 30 other football/soccer leagues from around the world directly within a customizable hidden dock theme. ScoreMobile FC provides up-to-the-minute football/soccer scores, stats, live blogs, video commentary, betting odds and league tables.

To download it click here