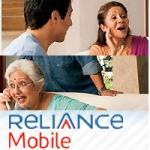 Another innovative offer by Reliance to encounter the On-net and local rate cutter packs launched by various operators recently.Reliance has once again proved that nothing can be better than the scheme they offer by launching a new recharge voucher priced at Rs 59 which provides FREE Reliance to Reliance calls (GSM+CDMA) between 11 pm to 6 am and 50% discount on all Local and STD calls made between the above said period with a validity of 30 days.

This plan is valid only for "Simply Reliance" subscribers who have activated per second billing plan or 50 paise/min plan.The above recharge is not applicable for 1 Rs/3 minute plan subsrcibers.
Here is an example on how the customer will be charged between 11 pm to 6 am:
All calls to Reliance local and STD mobiles are absolutely FREE!!

Per second billing subscribers will be charge 1/2 paise/second for both STD and Local calls made to any network.

50 paise/min plan subscribers will be charged 25 paise/minute for both STD and Local calls made to any network.
Reliance has bundled everything in this offer by giving unlimited On-net free calling facility and 50% discount on most importantly STD calls plus locals calls at a price which is just few good enough for a budget subscriber.